[Wedding Playlist] • Smack Mellon, Brooklyn—September 2017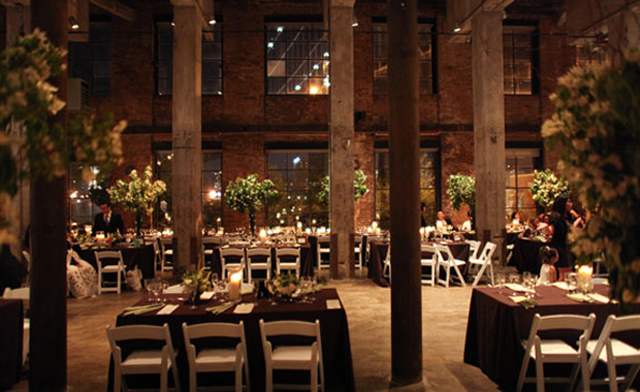 Smack Mellon, if you haven't visited, is an art exhibition space & non-profit organization that exhibits exciting contemporary work, and often very ambitious and site-specific works. As a wedding venue, it's one of my favorites in Brooklyn. Its DUMBO location is always bustling on the weekends, and the industrial-chic, textured look of the space gives a great contrast to softer wedding decor.
For this September 2017 Smack Mellon wedding, the couple and I agreed to explore a lot of Indie Electronic material, with dashes of fun, Golden Age Hip-Hop, & lively Pop of all eras. The energy simply worked! I was very pleased. Closing with LCD Soundsystem was the perfect way to end this distinctive event, in a distinctive space.
•
To see a particular sub-set of playlists, use these links:
Wedding playlists: All
Wedding playlists: 80s, Cocktail Hour, Contemporary Pop, Dinner, Disco, Hip-Hop, Indie, Rock 'N' Roll, Soul, Top 40.
The >>> to the right of a song means that it was beat-matched with the next song, and the >>> to the left of a song means that it was beat-matched with the one before it.
•
Cocktail Hour
The Beatles: "And I Love Her"
Summer Fiction: "Chandeliers"
Au Revoir Simone: "Where You Go"
The Breeders: "Drivin' On 9"
Rilo Kiley: "Silver Lining"
Calexico: "Two Silver Trees"
Pavement: "Shady Lane/J Vs. S"
The American Analog Set: "Magnificent Seventies"
Angus & Julia Stone: "Big Jet Plane"
Band of Horses: "Infinite Arms"
Local Natives: "Wide Eyes"
LCD Soundsystem: "oh baby"
Broken Social Scene Presents: Kevin Drew: "Safety Bricks"
The Coral: "In the Morning"
The National: "All The Wine"
Dinner
Penny & The Quarters: "You and Me"
Stars: "This Charming Man"
Elliott Smith: "Ballad Of Big Nothing"
Real Estate: "It's Real"
Sun Kil Moon: "Neverending Math Equation"
Belle and Sebastian: "Funny Little Frog"
Camera Obscura: "French Navy"
Bruce Springsteen: "I'm On Fire"
Cat Power: "The Greatest"
Metronomy: "Everything Goes My Way"
Aimee Mann & Michael Penn: "Two of Us"
Feist: "One Evening"
David Bowie: "Heroes"
Matt Pond PA: "Holiday Road"
Iron & Wine: "Love and Some Verses"
Kevin Sheilds: "City Girl"
Death Cab For Cutie: "Soul Meets Body"
Daft Punk: "Something About Us"
Architecture In Helsinki: "Heart It Races (As Played By Dr Dog)"
First Dance
Majical Cloudz: "Downtown"
Post-Dinner Dancing
Prince: "I Wanna Be Your Lover">>>
>>>Robyn: "Dancing On My Own">>>
>>>Talking Heads: "Once in a Lifetime">>>
>>>Daft Punk: "Get Lucky (Radio Edit feat. Pharrell Williams)">>>
>>>The Jacksons: "Shake Your Body (Down to the Ground)">>>
>>>Bruno Mars: "Treasure">>>
>>>Blondie: "Heart of Glass">>>
>>>Justin Timberlake: "CAN'T STOP THE FEELING!">>>
Bruce Springsteen: "Glory Days"
David Bowie: "Modern Love">>>
>>>Billy Idol: "Dancing With Myself"
The Weeknd: "Can't Feel My Face">>>
>>>Montell Jordan: "This Is How We Do It">>>
>>>Mariah Carey featuring O.D.B.: "Fantasy (Featuring O.D.B.)"
Kool & the Gang: "Get Down On It">>>
>>>Madonna: "Like A Prayer"
DJ Kool: "Let Me Clear My Throat (Old School Reunion Remix '96)">>>
>>>Drake: "One Dance (feat. Wizkid & Kyla)"
Salt-N-Pepa: "Shoop">>>
>>>Beyoncé: "Crazy In Love (f. Jay-Z)">>>
>>>Lauryn Hill: "Doo Wop (That Thing)"
Mark Ronson: "Uptown Funk (feat. Bruno Mars)">>>
>>>Justin Timberlake: "SexyBack (feat. Timbaland)">>>
>>>Stevie Nicks: "Stand Back"
Taylor Swift: "Shake It Off"
Katy Perry: "Roar"
The Rolling Stones: "Jumpin' Jack Flash"
The Beatles: "A Hard Day's Night"
Spice Girls: "Wannabe"
Mark Morrison: "Return of the Mack (Radio Mix)">>>
>>>TLC: "No Scrubs"
Stevie Wonder: "Signed, Sealed, Delivered I'm Yours"
The Jackson 5: "I Want You Back"
Aretha Franklin: "Respect">>>
>>>Young MC: "Bust a Move"
Lady Gaga vs Eurythmics (Divide & Kreate mix): "Dance Dreams"
Lana Del Rey: "Blue Jeans (RAC Mix)">>>
>>>Estelle: "American Boy (feat. Kanye West)">>>
>>>Whitney Houston: "I Wanna Dance With Somebody"
WALK THE MOON: "Shut Up and Dance">>>
>>>Depeche Mode: "Just Can't Get Enough">>>
>>>Rihanna: "We Found Love (feat. Calvin Harris)">>>
>>>Empire of the Sun: "Walking On a Dream"
Andre 3000 (OutKast): "Hey Ya!"
Last Dance
LCD Soundsystem: "Dance Yrself Clean"