About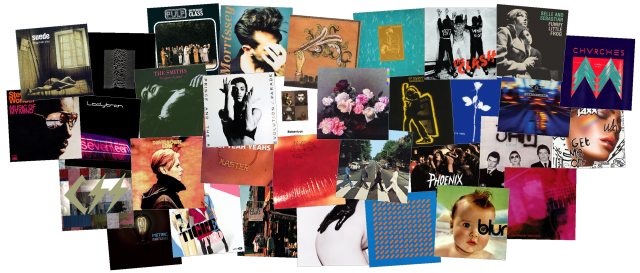 Welcome!
I'm an extremely versatile DJ based in the East Village of New York City with 14+ years of experience DJing a variety of types of events from private parties, to weddings, to NYC clubs & lounges. My music library is vast and spans an array of genres. If left completely to my own devices, my top-leanings are towards: Indie, 80s, Glam Rock, Retro, Manchester, Postpunk, New Wave, Britpop, The Minneapolis Sound, Shoegaze, Bristol, British Invasion, & Soul. On a secondary tier, I would say that I enjoy playing: Contemporary Pop, Motown, Hip-Hop (of all eras), Classic Rock, Funk, Disco & Post-Disco, Girl Groups, and Old-School Rock 'N' Roll among others.

DJ CEREMONY PRODUCTIONS + GUEST APPEARANCES
DJ Ceremony Tour Dates


BIO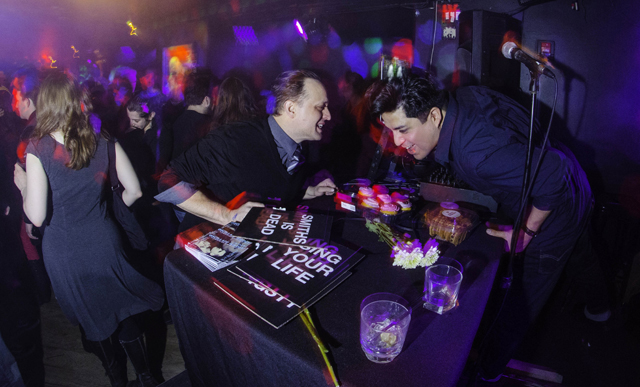 Photo by Tom Egan: January 31, 2015. Shot at "Oscillate Wildly" at The Gallery At LPR.
Like most people, I became interested in music at a very young age. Growing up I would always spend a lot of time with my Mother, who in the '80s was heavily into British New Wave, Synthpop, and the English New Romantics. She was the one who introduced me to bands like XTC, OMD, and New Order for the first time. In retrospect, I realized that my Mother had a huge influence on my particular sensibility in sound.
At age 18 I moved to New York to study Fine Art at the Cooper Union. I went through rigorous training in all artistic disciplines, but my main interests then, and to this day are: mixed media sculpture, large scale painting, drawing (pencil, ink, & charcoal), and collage. After Cooper Union, I went on to study Design at the University of Houston, where I studied typography and Postmodern Design principles. That led to a career in as an Art Director in Advertising that occupied me full-time for most of the 2000s.
Although I would perform sporadic DJ gigs during my Advertising years, I didn't take it up full time until 2008, when my craving for more independence, the running of my own practice, and full creative control surpassed my interest in the Advertising environment.
I've played at well over 150 venues in and around New York City since then. I'm the current producer and DJ of the celebrated monthly NYC Smiths & Morrissey fan party at The Gallery At LPR: "Oscillate Wildly," which is now in its sixth year. I also founded and co-produced a weekly neo-burlesque and variety show: "Corruption At Tammany Hall" in 2012, and produce an array of specialized themed parties around New York City. I can currently be heard at Passenger Bar in Williamsburg, The Gallery At LPR in the West Village, The Delancey on the Lower East Side, as well as Beauty Bar and Pinks in the East Village.
________________________________________________________________________________
VENUE HISTORY
Over the years I've either produced or DJed events at: (Updated September 2016)
Note: Venue names in bold indicate venues at which I have produced events.
Manhattan
Alger House, Angel Orensanz Foundation, Astra, Battery Gardens, Berlin, Black & White, The Bowery Electric, The Bowery Hotel, Bridgewaters, Bryant Park Grill, The Carlyle, The Core Club, The Cutting Room, The Delancey, Fiamma, Gallery Bar, The Gallery at LPR (Le Poisson Rouge), Glass, Golden Unicorn Restaurant, Guernica, The Harold Pratt House (Presented by The Council on Foreign Relations), The Hudson Hotel, The Italian Academy, Jeromes, Lavo, Le Poisson Rouge, Leftfield, The Loeb Boathouse—Central Park, Lolita Bar, The Lotos Club, Luca Lounge, Manhattan Penthouse, New Leaf at Fort Tyron Park, Niagara, No Malice Palace, The NoMad Hotel, Omni Berkshire Place, Pre:Post, PUBLIC, R Bar at the Renaissance New York Times Square Hotel, Rififi/Cinema Classics, River Room of Harlem, Riverside Church, Robert, The Romantica (of Prestige Yacht Charters), Route 85A, 620 Loft and Garden (at Rockefeller Center), Smithfield, Society Of Illustrators, St. George's Episcopal Church, Studio 450, Sullivan Hall, Tammany Hall, Terrace In The Sky, 320 Studios, Trump SoHo, The Ukranian Institute, Windfall, The Wooly
Brooklyn
Abilene, BackBar at The Bedford, BAM (Brooklyn Academy of Music), The Bell House, The Boathouse at the Prospect Park Audubon Center, Brooklyn Botanic Garden (The Palm House & The Atrium), Brooklyn Winery, Brooklyn Society For Ethical Culture, The DUMBO Loft, Dyker Beach Golf Course, The Farm On Adderly, 501 Union, Giando On The Water, The Green Building, Larry Lawrence Bar, The Liberty Warehouse, Milk And Roses, The Montauk Club Of Brooklyn, MyMoon Restaurant & Bar, Passenger Bar, ReBar, The River Café, Russo's On The Bay, Smack Mellon, Stone Park Cafe, Union Hall, Water Street Restaurant and Lounge
Queens
Attic Studios (Long Island City), The Foundry (Long Island City), The Metropolitan Building (Long Island City), Museum Of The Moving Image (Astoria, NY), Queens Botanical Garden (Flushing, NY), Queens County Farm Museum (Floral Park, NY), Renaissance of Astoria, The Sheraton LaGuardia East Hotel (Flushing, NY), Water's Edge (Long Island City)
Bronx
The Bronx Zoo, New York Botanical Garden
Staten Island
Snug Harbor Cultural Center & Botanical Gardens
New Jersey
The Conservatory at The Sussex County Fairgrounds (Augusta, NJ), Crossed Keys Inn (Andover, NJ), Harborside Creative Catering (Jersey City, NJ), Hyatt Regency (Jersey City, NJ), Macaluso's (Hawthorne, NJ), The Manor (West Orange, NJ), Maritime Parc (Jersey City, NJ), Mountain Lakes Club (Mountain Lakes, NJ), New Meadowlands Stadium (East Rutherford, NJ), Molly Pitcher Inn (Red Bank, NJ, Transmission (Jersey City), Waterloo Village (Stanhope, NJ), Waterside Restaurant and Catering (North Bergen, NJ), Windows on the Water (Seabright, NJ)
Long Island
The Bayview House (Bay Shore, NY), East Hampton Point (East Hampton, NY), Fox Hollow (Woodbury, LI, NY), The Garden City Hotel (Garden City, NY), Hallockville Museum Farm (Riverhead, NY), Land's Inn (Sayville, NY), The Mansion At West Sayville (West Sayville, NY), The Milleridge Inn (Jericho, NY), Old Field Club (East Setauket, NY), The Pridwin Hotel (Shelter Island, NY), Riviera At Massapequa (Massapequa, NY), Solé East (Montauk, NY), Temple Beth-El (Great Neck, New York), Westbury Manor (Westbury, NY)
Upstate NY
Alder Manor (Yonkers, NY), Art Omi International Arts Center (Ghent, NY), Blooming Hill Farm (Blooming Grove, NY), Blue Hill At Stone Barns (Tarrytown, NY), Boscobel House And Gardens (Garrison, NY), The Garrison (Garrison, NY), The Grandview (Poughkeepsie, NY), Greentree Country Club (New Rochelle, NY), The Hill (Hudson, NY), Hilton Westchester (Rye Brook, NY), The Lodge On Echo Lake (Warrensburg, NY), Lyndhurst (Tarrytown, NY), The Mansion at Timber Point (Great River, NY), Round Hill (Washingtonville, NY), The Roundhouse at Beacon Falls (Beacon, NY), Tappan Hill Mansion (Tarrytown, NY), Torne Valley Vineyards (Hillburn, NY), Wiawaka Holiday House (Lake George NY)
Pennsylvania
Centre Bridge Inn (New Hope, PA), Colonial Dames (Philadelphia), The Franklin Institute (Philadelphia), Johnny Brenda's (Philadelphia), Skytop Lodge (Skytop, PA)
Connecticut
The Inn At Longshore (Westport, CT)
Vermont
Riverside Farm (Pittsfield, VT)
________________________________________________________________________________