DJ Ceremony Spins @ NY Pin Up Club's "A Little Tease" Burlesque: 3/29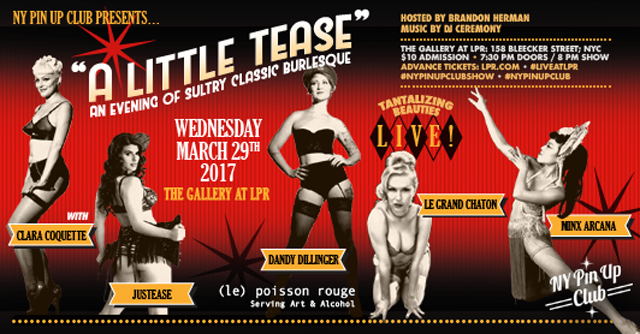 NY Pin Up Club presents:
"A LITTLE TEASE"—An Evening Of Sultry Classic Burlesque.
Wednesday, March 29, 2017 at The Gallery At LPR.


[From producer Jessica Rose of the NY Pin Up Club]
Ladies and Gentlemen,
Please join us for a very special night of sultry, classic burlesque at Le Poisson Rouge! Some of you may remember our semi-annual large scale "Big Tease" events, or our smaller monthly burlesque shows held at The Slipper Room, Bowery Poetry Club and various other venues around NYC. We like to think of those latter evenings as "A Little Tease" and are happy to bring our show to the Gallery at LPR Wednesday, March 29th! So come out and help celebrate our return to Meetup.com with an evening of burlesque!
We will be featuring burlesque performances by:
Clara Coquette
Dandy Dillinger
Justease
Le Grand Chaton
and
Minx Arcana!
We will also be unveiling our latest video!
• Hosted by Brandon Herman
• Music by DJ Ceremony
• $10 admission
• 7:30 doors / 8 PM show
Advance tickets will be available at LPR.com; seating is on a first come first serve basis. Arrive early for preferred seating. As always, photos are encouraged- just leave the flashing to the performers!
Fun fact: Flyer/promotion images were all taken at NY Pin Up Club shoots! Images of Clara Coquette and Dandy Dillinger by Ming Chin. Image of Justease by Kajsa Daphne. Image of Le Grand Chaton by E Cindy Stein. Image of Minx Arcana by Rob Feiner.

NY Pin Up Club presents:
A LITTLE TEASE—An Evening Of Sultry Classic Burlesque
Wednesday, March 29, 2017 at 7:30pm. 21+ with ID.
(Doors at 7:30pm; show at 8:00)
The Gallery At LPR: 158 Bleecker St: New York City
#NYPinUpClub #NYPinUpClubShow #LiveAtLPR