"DISINTEGRATION"—An Immersion Into The Soundscape Of The Cure: 2/1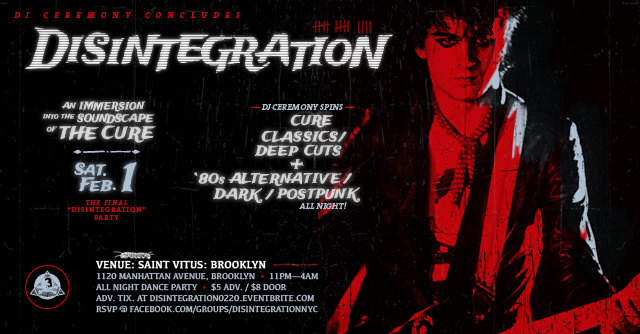 DJ Ceremony concludes:
"DISINTEGRATION" at SAINT VITUS
An Immersion Into The Soundscape Of The Cure.
Final Party: Saturday, February 1, 2020.
w. DJ Ceremony


$5 Early Bird Discount Tickets available at Eventbrite. (Tickets are $8 at the door) Secure guaranteed admission to "DISINTEGRATION." Buy here. (Useful if party attendance reaches venue capacity) Early-bird sale ends Saturday, February 1, 2020 at 5:00pm.


DJ Ceremony presents the 14th and final edition of "DISINTEGRATION," an all-night immersion into the music and soundscape of Alternative Rock legends The Cure! Following their initial late-'70s 3-piece recordings, The Cure released a series of classic records throughout the '80s that solidified their status as icons of the Post-Punk, Alternative Rock, Gothic, and New Wave genres. "DISINTEGRATION" is proud to present an entire night in tribute to this dynamic and widely influential band. Dance all night to an all-night array of Cure hits, rarities, deep cuts… complimented by the best in Dark '80s Alternative, Gothic, UK Postpunk, and Cure-associated artists.
• DJ Ceremony at the helm: 11pm—4am
• Rare & classic Cure films/videos screened all night.
• $5 early-bird discount tix available at Eventbrite (link above)
• $8 standard admission at the door
• 21 and up.
DISINTEGRATION—An Immersion Into The Soundscape Of The Cure
Saturday, February 1, 2020 — 11pm to 3am
Venue: SAINT VITUS — 1120 Manhattan Avenue (BTW Clay & Box Streets)
Brooklyn, NY 11222
MTA: G to Greenpoint Avenue • 7 to Vernon/Jackson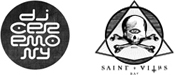 #DisintegrationNYC

DJ Ceremony profiles:

Sign up for the DJ Ceremony mailing list for information on upcoming events and dates. You may unsubscribe from the mailing list any time.

Join the new "DISINTEGRATION" NYC Facebook group for the latest information on upcoming party dates, Cure news, and more.