[Wedding Playlist] • Battello, Jersey City—November 2019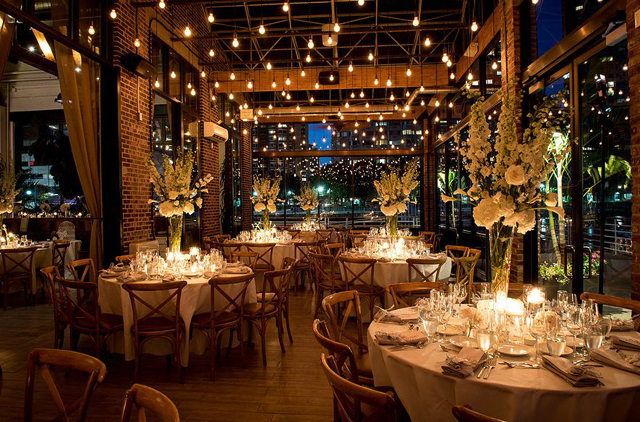 Battello is a beautiful restaurant and private event venue situated on the picturesque Jersey City waterfront. With high ceilings and windows that surround the entire space, it offers stunning views of the Hudson River, Manhattan, and Jersey City.
The groom and I (with whom I share many common musical interests) collaborated on an approach that started with a classic, jazzy sound… and concluded with a dance party that spanned an eclectic array decades and styles. There was something for everyone this night… and it all added up to a wonderful night in celebration of love and family.
•
WEDDING SETLIST. BATTELLO, JERSEY CITY: FRIDAY, NOVEMBER 29, 2019.
Ceremony
Vitamin String Quartet – Dont Look Back in Anger
Amavi Music – Hallelujah
Simply Three – Happy
Cocktail Hour
Frank Sinatra – Fly Me To The Moon
Elvis Presley – Too Much
Matt Monro – From Russia With Love
Perry Como – Papa Loves Mambo
Tony Renis – Quando, Quando, Quando
Ella Fitzgerald – Manhattan
Connie Francis – Tango Italiano
Bobby Darin – Beyond The Sea
June Christy – Pete Kelly's Blues
Dean Martin – Volare
Bobby Darin – Mack the Knife
Chet Baker – Chet
Nat "King" Cole – When I Fall In Love
Frank Sinatra – The Way You Look Tonight
Ella Fitzgerald – I'm Beginning to See the Light
Nina Simone – My Baby Just Cares For Me
Billie Holiday – Our Love Is Here to Stay
Madeleine Peyroux – Dance Me to the End of Love
Van Morrison – Moondance
Party Introductions
Jonas Brothers – Sucker
Kool & the Gang – Celebration
Backstreet Boys – Everybody (Backstreet's Back)
Rick Astley – Never Gonna Give You Up
First Dance
Oasis – Wonderwall (Sitoy Pesce Remix)
Father/Daughter Dance
ortoPilot – Make You Feel My Love
Mother/Son Dance
Elvis Presley – (Let Me Be Your) Teddy Bear
Family/Guest Dance
Sister Sledge – We Are Family
Dinner
João Gilberto – Meditação
The Dave Clark Five – Because
(Speeches)
Dance Set 1
Bee Gees – Stayin' Alive
Kool & the Gang – Get Down On It
BIGBANG – BANG BANG BANG
Simple Minds – Don't You (Forget About Me)
The Cardigans – Lovefool
Boyz II Men – Motownphilly
INXS – New Sensation
C+C Music Factory – Gonna Make You Sweat
Kardinal Offishall – Dangerous (feat. Akon)
Dinner (Cont.)
Nancy Sinatra – Sugar Town
Otis Redding – These Arms of Mine
The Beatles – Twist and Shout
Van Morrison – Crazy Love
James Brown – I Got The Feeling
Sergio Mendes & Brasil '66 – Mais Que Nada
The Four Tops – I Can't Help Myself (Sugar Pie, Honey Bunch)
Stevie Wonder – For Once in My Life
Tommy James & The Shondells – Mony Mony
Simon & Garfunkel – Cecilia
The Temptations – My Girl
Question Mark & The Mysterians – 96 Tears
The Beach Boys – Wouldn't It Be Nice
Roy Orbison – Oh, Pretty Woman
Dance Set 2
Frankie Valli – Can't Take My Eyes Off You
Daniela Romo – Todo, Todo, Todo
Earth, Wind & Fire – September
Chic – Everybody Dance
Pitbull – I Know You Want Me (Calle Ocho)
Corona – Rhythm of the Night
Empire of the Sun – Walking On a Dream
Salt-N-Pepa – Push It
Flo Rida – Low (feat. T-Pain)
The Clash – Rock The Casbah
Don Omar & Lucenzo – Danza Kuduro
Gloria Estefan – Conga
Bruno Mars – 24K Magic
Marcia Griffiths – Electric Boogie
Montell Jordan – This Is How We Do It
The Notorious B.I.G., Mase & Puff Daddy – Mo Money Mo Problems
Whitney Houston – I Wanna Dance With Somebody
Cyndi Lauper – Girls Just Want to Have Fun
Lizzo – Juice
Cupid – Cupid Shuffle
Enur – Calabria 2007
Lady Gaga vs Eurythmics – Dance Dreams (Divide & Kreate mix)
Rick James – Give It to Me Baby
Donna Summer – Hot Stuff
The Isley Brothers – Shout
Stevie Wonder – Uptight (Everything's Alright)
The Cure – Just Like Heaven
a-Ha – Take On Me (12″ Extended Version)
Ginuwine – Pony
Lil Nas X – Old Town Road (feat. Billy Ray Cyrus)
Luis Fonsi – Despacito (feat. Daddy Yankee)
Last Song Of The Night
Bill Medley and Jennifer Warnes – (I've Had) The Time of My Life
•
To see other wedding playlists, click here.
•