"PERSEPHONE"—Dark Dance + Secret Dungeon Halloween: Oct. 25 & 26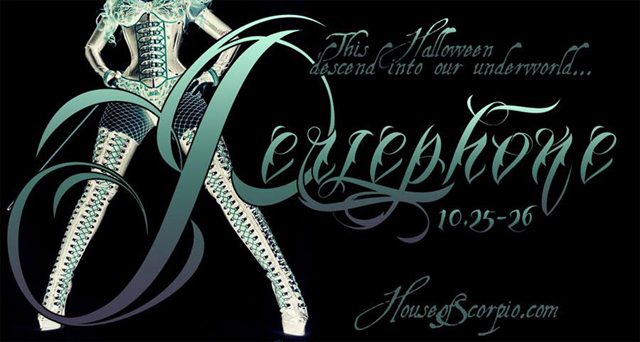 Gemini & Scorpio and House of Scorpio present:
"PERSEPHONE"—Dark Dance + Secret Dungeon Halloween
Friday, October 25, 2019
—and—
Saturday, October 26, 2019
With:
• DJ Ceremony (10:00–3:00)
Event runs form 9:00pm-4:00am.


Friday, Oct. 25 -and- Saturday, Oct. 26
9pm-4am, 21+ (25+ suggested)
$40 adv / $50 door, if available / $0-20 for monthly members
$20 after 1am if capacity allows (door only)
Venue: Gemini & Scorpio Loft
255 Douglass Street
Gowanus, Brooklyn, NY
No PAL requirement except in dungeon area; dress code and Code of Conduct apply
General info: http://www.geminiandscorpio.com/events.html
Tickets: https://persephone.brownpapertickets.com
House of Scorpio membership options & member tickets: http://www.houseofscorpio.com/membership.html

As autumn's chill stills the air, Persephone once again journeys to the underworld to bring redemption and pleasure to its denizens and to seek out her immortal lover Hades. Taste the sacred pomegranate and join us in a modern recrafting of the sacred and erotic Eleusian mysteries.
A dark and haunting mix of dance, performance, sensory experience and kink play, Persephone is a fetish Halloween celebration. DJ Ceremony keeps you dancing all night with goth, industrial, synth, dark 80s, new wave, electro.
We are collaborating with blacksmiths Bound in Iron to set up a special dungeon area with play equipment, including a Humiliation Zone on our stage. Rigging points available for suspension play. Explore your darkest desires…bring your dates & your toys. Consent and polite party behavior strictly enforced.
Welcome to our underworld.
Dress code: Gods and goddesses, devils and demons, damned souls, gothic, fetish, dark Lolita, cyberpunk, ninja warrior. Effort required / no casual wear.
Please note: photos in the main space are only allowed 9-10pm, with subject's permission. 10pm-end: no photos except in the designated area.
House of Scorpio general rules: http://www.houseofscorpio.com/codeofconduct.html

"PERSEPHONE"—A Secret Dungeon Dark Halloween
Friday, October 25, 2019 -and- Saturday, October 26, 2019
9:00pm to 4:00am
Venue: Gemini & Scorpio Loft
255 Douglass Street
Gowanus, Brooklyn, NY

DJ Ceremony profiles:


Sign up for the DJ Ceremony mailing list for information on upcoming events and dates. You may unsubscribe at any time.