"JUBILEE"—[4th Saturdays] DJ Ceremony Spins at Parklife, BK: Sat. 5/25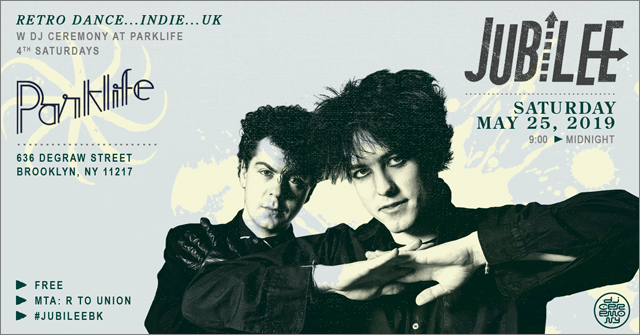 Parklife & DJ Ceremony present:
"JUBILEE" [4th Saturdays]
Retro Dance / Indie / UK at Parklife (Gowanus, Brooklyn)
Next edition:
Saturday, May 25 2019
With:
• DJ Ceremony: 9:00pm—Midnight


Join us every 4th Saturday for "JUBILEE" at the very charming Parklife in Gowanus, Brooklyn. DJ Ceremony spins an infectious & upbeat mix of Retro Dance ('70s/'80s/'90s), Indie, & UK until midnight. Bring your friends! Parklife is great for groups.
Also, bring your appetites! Parklife serves food daily expertly prepared and lovingly provided by Taqueria El Atoradero, whose blue corn tortillas are made fresh from scratch every day.
Next edition: Saturday, May 25, 2019 — 9:00pm to Midnight
Venue: PARKLIFE — 636 Degraw Street
Brooklyn, NY 11217
MTA: R to Union Street

DJ Ceremony profiles:


Sign up for the DJ Ceremony mailing list for information on upcoming events and dates. You may unsubscribe at any time.