"SOUND & VISION"—Jersey City's Nightlife Alternative: Sat. May 18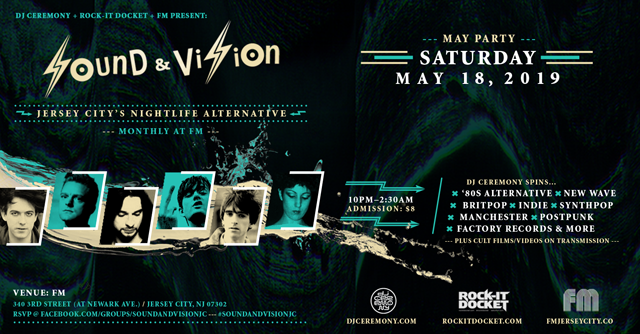 DJ Ceremony, Rock-it Docket, and FM present:
"SOUND & VISION" at FM
Jersey City's Nightlife Alternative
May party:
Saturday, May 18, 2019.
(Event occurs monthly at FM)
With:
• DJ Ceremony: 10:00pm—2:30am


$5 Early Bird Discount Tickets available at Eventbrite. (Tickets are $8 at the door) Secure guaranteed admission to Sound & Vision. Buy here. (Useful if party attendance reaches venue capacity) Early-bird sale ends Saturday, May 18 at 5:00pm.


Poland Spring can't keep a great party down! Thanks for a great April party, everyone. Sorry for the act of vandalism that temporarily disrupted our last bash, but we'd like to give a very special thanks to DJ Ash for stepping in and finishing out the night! Mark your calendars for the next date for "SOUND & VISION:" Saturday, May 18, 2019.
For those new to "SOUND & VISION," join hundreds of like-minded Alternative music fans in NJ/The Tri-State for a full night on the dance floor as DJ Ceremony provides an all night soundtrack of the best in '80s Alternative, New Wave, Classic '90s Britpop, Postpunk, Indie, Synthpop, Manchester, Factory Records, & more.
At "Sound & Vision," dance to the likes of The Cure, David Bowie, The Smiths, Pulp, New Order, Siouxsie And The Banshees, Joy Division, Morrissey, The Jam, The Psychedelic Furs, The Stone Roses, Clan Of Xymox, Echo & The Bunnymen, Marc Almond, OMD, Yazoo, Depeche Mode, Pet Shop Boys, Prince, a-Ha, Adam Ant, Pixies, Duran Duran, Camouflage, Alphaville, Björk, The Human League, Eurythmics, Public Image Ltd., Berlin, Erasure, Book Of Love, Nine Inch Nails, The Church, Love And Rockets, Soft Cell, Gang of Four, Talk Talk, Simple Minds, Blondie, Suede, Heaven 17, Sisters Of Mercy, Ministry, Bronski Beat, Flock Of Seagulls, Red Flag, Front 242, Blur, The Clash… and much more!
• DJ Ceremony behind the decks all night
• Cult videos/films by Jason Lee on transmission
• 10pm—2:30am
• Admission: $5 in advance at Eventbrite / $8 at the door
"SOUND & VISION"—Jersey City's Nightlife Alternative
May Party: Saturday, May 18, 2019
Venue: FM — 340 3rd Street (at Newark Avenue)
Jersey City, NJ 07302
(10 minute walk from Grove St. Path)
(2 stop Path ride from Manhattan)
#SoundAndVisionJC

DJ Ceremony profiles:


Sign up for the DJ Ceremony mailing list for information on upcoming events and dates. You may unsubscribe from the mailing list any time by replying to any e-mail with "Remove" in the subject line of your e-mail.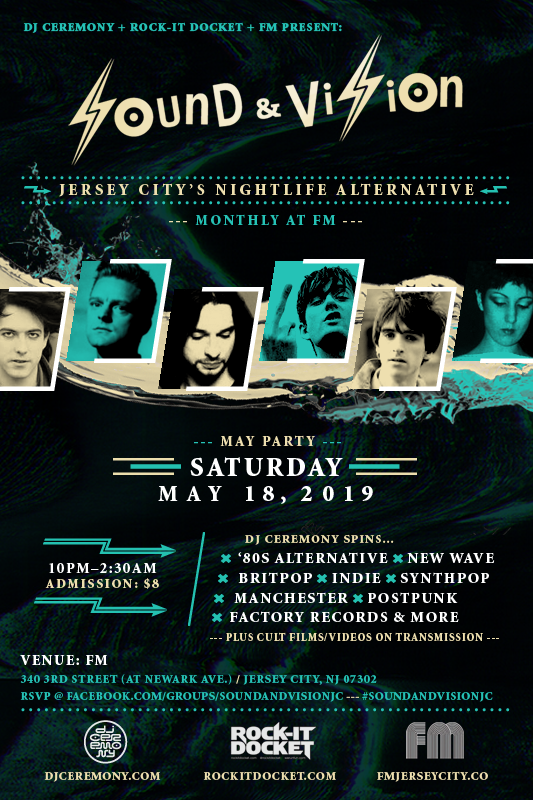 All graphic design by Lumina Design Lab.