"JUST CAN'T GET ENOUGH"—A Post-Midnite NYE Dance Party! NYE 2018/2019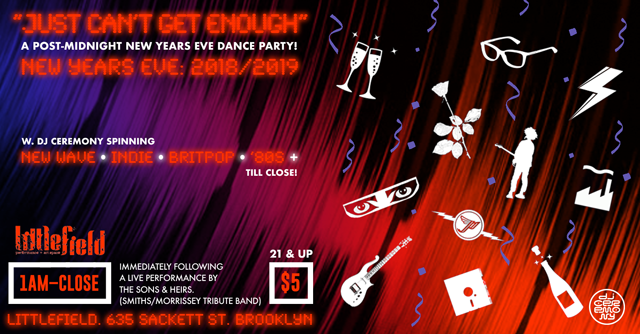 Littlefield & DJ Ceremony present:
"JUST CAN'T GET ENOUGH"—A Post-Midnight New Year's Eve Dance Party! at LITTLEFIELD
New Year's Eve 2018/2019: Monday, December 31, 2018.
(Note: Dance party starts at 1:00am)
Immediately following a live performance by The Sons & Heirs (Smiths/Morrissey tribute band)
With DJ:
• DJ Ceremony ("Oscillate Wildly" / "Beetlebum" / "Sound & Vision")

After the ball drops, don't even think about going home… the party is just getting started! Join us at 1:00am+ at Littlefield in Brooklyn for a killer late-night dance party to ring in 2019. DJ Ceremony spins a smashing mix of New Wave, Indie, Britpop, '80s & more until late. Bring your dancing shoes!
• DJ Ceremony behind the decks all night
• Drink specials
• 21 and up
• $5.00
• Immediately following a live performance by The Sons & Heirs (Smiths/Morrissey tribute band)
"JUST CAN'T GET ENOUGH"
Monday, January 1, 2019 — 1:00 p.m. to 4 a.m.
Venue: LITTLEFIELD — 635 Sackett Street
Brooklyn, NY 11217

DJ Ceremony profiles:


Sign up for the DJ Ceremony mailing list for information on upcoming events and dates. You may unsubscribe from the mailing list any time by replying to any e-mail with "Remove" in the subject line of your e-mail.