DJ Ceremony Spins @ "SVMMON"—Dark Dance Night: Friday, Dec. 14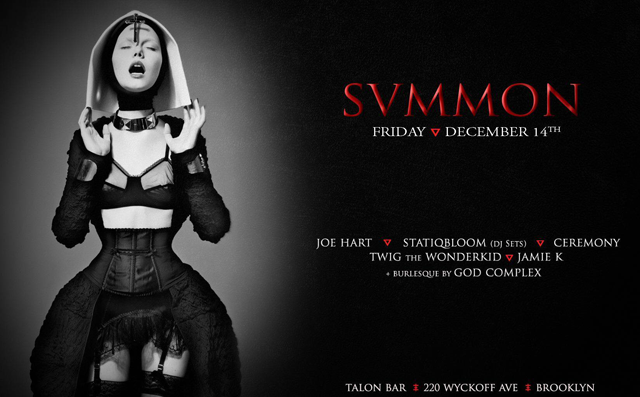 Joe Hart presents:
"SVMMON"
Dark Dance Night at Talon Bar, Brooklyn
▲ BROOKLYN'S MULTI-FLOOR DECADENT DANCE PARTY ▼
Next edition:
Friday, December 14, 2018
Dark Synth | Wave | Post-punk | Goth by:
• Joe Hart (Svmmon/Procession)
• DJ Ceremony (Oscillate Wildly/Beetlebum)
• STATIQBLOOM (DJ sets)
└ Fade Kainer & Semita Serpens (New York Haunted)
• Twig the Wonderkid (Glamdammit)
• Jamie K (Strangelove Seoul)
-Plus- Midnight Burlesque by God Complex

SVMMON merges dark dance with esoterics and perversion. Explore the subversive side of nightlife. Join us for a night of dark delights. Leather & Lace / lingerie / fetish / dark looks are encouraged.
• Midnight Burlesque by God Complex
• Tarot Readings
• Visual Projections
• Rituals
• Free to enter
• 2 Dance Floors + Lounge + Heated Outdoor Terrace
Friday, December 14, 2018 — 10pm to 4am
Venue: Talon Bar — 220 Wyckoff Avenue; Brooklyn.

DJ Ceremony profiles:


Sign up for the DJ Ceremony mailing list for information on upcoming events and dates. You may unsubscribe at any time.