"SOUND & VISION"—The Alternative In Jersey City Nightlife: Sat. Sept. 15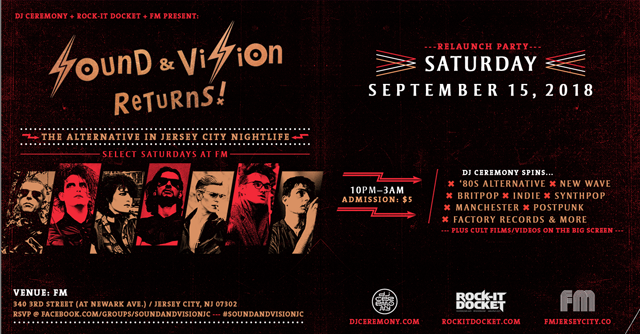 DJ Ceremony, Rock-it Docket, and FM present:
"SOUND & VISION" RETURNS at FM
The Alternative In Jersey City Nightlife
Relaunch party:
Saturday, September 15, 2018.
(Event occurs on Select Saturdays at FM)
With:
• DJ Ceremony: 10:00pm—3:00am


$5 Early Bird Tickets available at Eventbrite. Secure guaranteed admission to Sound & Vision. Buy here. (Useful if party attendance reaches venue capacity) Early-bird sale ends Saturday, September 15, 2018 at 5:00PM.


We have really great news, JC! You can't keep a good party down. After taking a little hiatus for the first half of 2018, "Sound & Vision" has found a new home & venue at the stylish FM in Downtown Jersey City! DJ Ceremony & Dancing Tony will be putting some custom touches on the space to create just the right vibe for a full night on the dance floor.
Mark your calendars for the first in a new series of dates for Sound & Vision: Saturday, September 15, 2018. This will also serve as Dancing Tony's 50th birthday celebration!
For those new to Sound & Vision, dance all night as DJ Ceremony provides an all night soundtrack of the best in '80s Alternative, New Wave, Classic '90s Britpop, Postpunk, Indie, Synthpop, Manchester, Factory Records, & more.
At "Sound & Vision," dance to the likes of The Cure, David Bowie, The Smiths, Pulp, New Order, Siouxsie And The Banshees, Joy Division, Morrissey, The Stone Roses, Echo & The Bunnymen, OMD, Depeche Mode, Pet Shop Boys, a-Ha, Adam Ant, Pixies, Duran Duran, The Human League, Berlin, Erasure, Gang of Four, Blondie, Suede, Blur, The Clash… and much more!… bring your best requests!
• DJ Ceremony behind the decks all night
• Cult videos/films on the big screen
• 10pm—3am
• Admission: $5 at the door, or Eventbrite
"SOUND & VISION" RETURNS
The Alternative In Jersey City Nightlife
Relaunch party: Saturday, September 15, 2018
Venue: FM — 340 3rd Street (at Newark Avenue)
Jersey City, NJ 07302
(10 minute walk from Grove St. Path)
(2 stop Path ride from Manhattan)
#SoundAndVisionJC

DJ Ceremony profiles:


Sign up for the DJ Ceremony mailing list for information on upcoming events and dates. You may unsubscribe from the mailing list any time by replying to any e-mail with "Remove" in the subject line of your e-mail.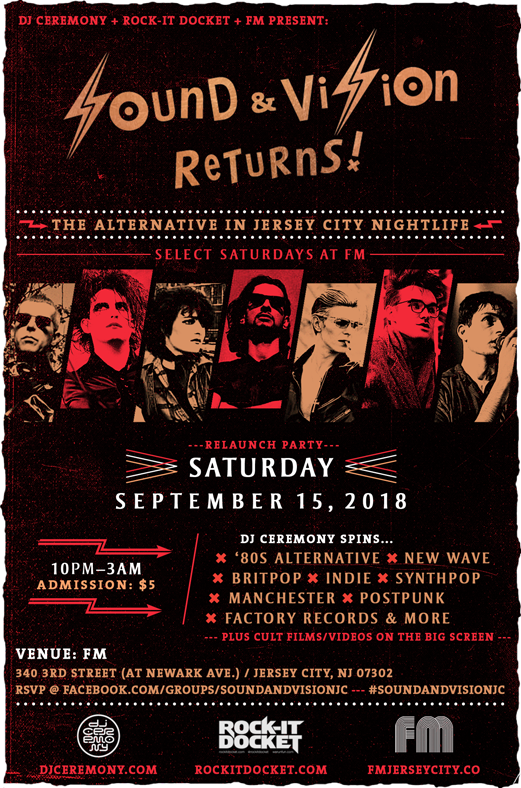 All graphic design by Lumina Design Lab.