DJ Ceremony Spins at Kiki Valentine's "Abracadabra" Thurs. April 19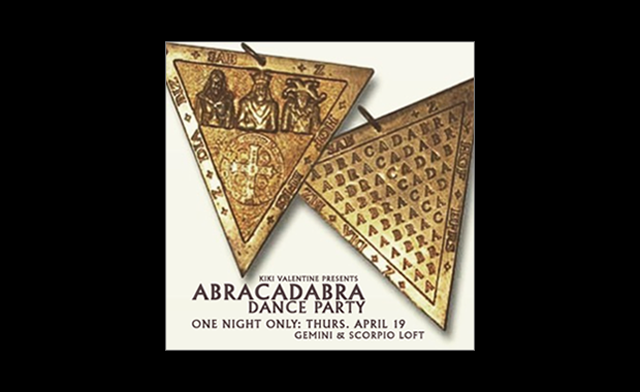 Kiki Valentine presents:
"ABRACADABRA"—An Old School Warholian Underground Dance Party
At Gemini & Scorpio Loft
Thursday, April 19, 2018
With:
• DJ Ceremony: 8:00pm—Midnight


Kiki Valentine writes:
"Longing for a no-nonsense night out with contemporaries and a guaranteed good time?
Abracadabra! Harkening to New York City's Warholian underground dance parties of old but with a more sophisticated edge — we've all grown up, right?! – join mature guests who love to let loose and put down their smart phones for a night of socializing, music, dance, performances, and delectable craft cocktails in a fabulous Brooklyn speakeasy.
Lots of comfy seating to chat and mingle, a dance floor space to get your groove on, dark corners to make out like teenagers, an outdoor space with astroturf to gaze upon the stars, and delicious craft cocktails await you.
Expertly crafted dance music by DJ Ceremony (Le Poisson Rouge, Beauty Bar, St Vitus + hundreds of weddings) who specializes in dance parties and offers a versatile range of different styles, bringing a bright, fun, and kinetically danceable sound and vibe to Abracadabra with songs you know and love to get down to.
An early start and end means you can have a great night out with an amazing soundtrack and be guilt-free: get home in time to sleep at a reasonable hour (if you choose), relieve the babysitter, or walk the dog.
Speakeasy location revealed once you purchase a ticket!"

Thursday, April 19, 2018
8:00pm to Midnight
Venue: Gemini & Scorpio Loft
255 Douglass Street
Gowanus, Brooklyn, NY

DJ Ceremony profiles:


Sign up for the DJ Ceremony mailing list for information on upcoming events and dates. You may unsubscribe at any time.