"ELECTRICITY"—An All-Electronic Dance Floor Retrospective: Thurs. 3/8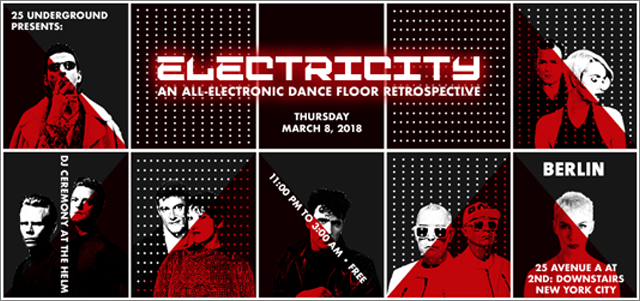 25 Underground presents:
"ELECTRICITY"
An All-Electronic Dance Floor Retrospective at Berlin, East Village
One night only:
Thursday, March 8, 2018
With:
• DJ Ceremony: 11:00pm—3:00am


25 Underground presents "ELECTRICITY"—An All-Electronic Dance Floor Retrospective with DJ Ceremony. Guitars be damned! The sound of the party will focus on classic synth pop & electronic New Wave, and you may hear the likes of New Order, Pet Shop Boys, a-Ha, Alphaville, The Human League, Erasure, Clan of Xymox, Bat For Lashes, Depeche Mode, Berlin, OMD, Book Of Love, Bronski Beat, Cabaret Voltaire, Visage, Camouflage, Cetu Javu, Animotion, Electronic, Eurythmics, Front 242, Heaven 17, Ladytron, LCD Soudsystem, Level 42, Massive Attack, Red Flag, Soft Cell, Tones On Tail, and many more.
* Come early for performances by Night Powers, Kyle Avallone, Belle-Skinner, and Beechwood live before the party!
Thursday, March 8, 2018 — 11pm to 3am
Venue: BERLIN (Downstairs) — 25 Avenue A (at 2nd Street)
East Village: New York City

DJ Ceremony profiles:


Sign up for the DJ Ceremony mailing list for information on upcoming events and dates. You may unsubscribe at any time.