DJ Ceremony Spins at House of Scorpio's "Saints & Sinners" Friday, 3/2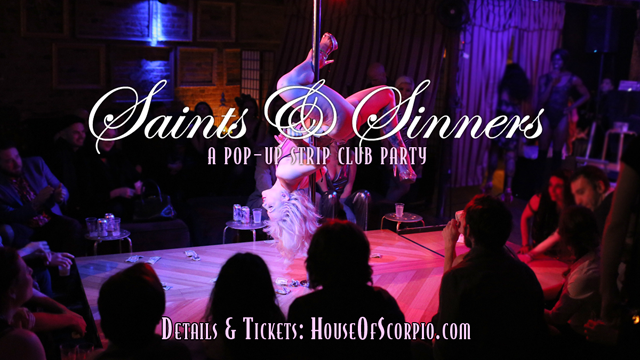 House of Scorpio presents:
Saints & Sinners: A Pop-up Strip Club Party
Friday, March 2, 2018
Feat. DJ Ceremony
Rules & location
Fetish Life page


For one night only, the Gemini & Scorpio Loft clubhouse becomes a full-on strip club, with a pole stage, an array of lap dance-ready seating…. and a play-friendly Champagne Room. There will be six dancers to entertain you: each a hand-picked burlesque, pole, or circus stars stepping outside the boundaries of their genre to spend the whole night dancing for you on stage and in your lap.
Featuring:
• Peekaboo Pointe—"The Fastest Tassel-twirler from East to West"
• Sydni Deveraux—"The Golden Glamazon"
• Nina La Voix—"The Grande Dame of Derierre"
• Amanda Whip—"The Bendy Sex Kitten"
• Gal Friday—"The Five-alarm Fire of Burlesque"
• Cheekie Lane—"The Wild Child of the Id and the Ego"
• Audrey Love—"The Tantalizing Tease"
• -and- Lydia Vengeance—"The Manic Pixie Nightmare Witch"
Once the dancers are done, the stage is yours to shake your booty on and turn on fellow House of Scorpio members. Live out your strip fantasies on our stage as DJ Ceremony provides the beats late into the night.

Rules of the club:
The usual Lip Service dress code & code of conduct apply. Countdown rules in Champagne Room. Read the website. Dress up. Tip generously (dancers, wait & bar staff). Get lap dances (they're the best part, and only $10). Respect the dancers. Keep your hands to yourself (or your partner). Nudity is fine on the stage, but no private parts on venue furniture.
How to attend:
1) Email us at the address at www.houseofscorpio.com with your and your PAL's FB, Fetlife, or other online profile to get approved, and to get link for advance tickets.
2) Fill out the form on our site for an auto-reply with the loft address (also revealed with ticket purchase).
3) If you're approved, you may also buy tickets at the door, though we can't guarantee availability. We'll update the FB event page with latest ticket info.
Admission:
• $25 presale
• $50 reserved table seating
• $35 at door before 12am
• $20 after (door sales as capacity allows, and only for pre-approved members in good standing)
House of Scorpio's "Saints & Sinners"
Friday, March 2, 2018
Gemini & Scorpio Loft
255 Douglass Street
Gowanus, Brooklyn, NY
9pm-3am
21+ (25+ suggested)