DJ Ceremony Spins At Gemini & Scorpio's "Masked" NYE 12/31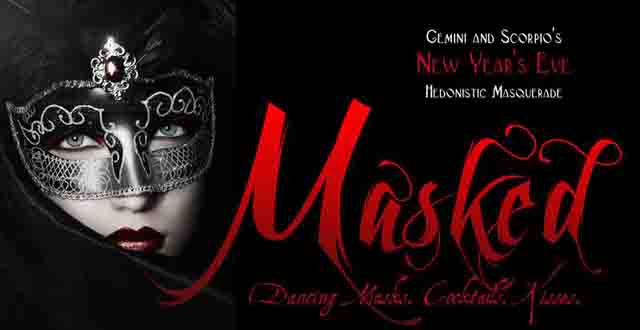 Gemini & Scorpio presents:
"MASKED"—A Hedonistic Masquerade
New Year's Eve: Sunday, December 31, 2017 at Gemini & Scorpio Loft
9:00 p.m. to 4:00 a.m.
With DJ: (9:00pm—Midnight)
• DJ Ceremony ("Oscillate Wildly" / "Disintegration" / "25 Underground")

2017 needs a "fuck you" sendoff. Be bold, be wild, as you enter 2018.
A hedonistic Masquerade to activate all your senses with pulsating beats, swirling visuals, sensory games and activities, and many kisses. Tickets are limited to keep the event comfortable and welcoming.
Music by DJ Ceremony, Reaganomics and Stylus, masters of eclectic dance floor surprises. 2018 passion predictions with our tarot experts. Custom projections by CJ. Free champagne 9-10pm and 3-4am.
Strict formal or lingerie dress code. Masks required (some will be available for sale).
This is NOT a play party. It's a night to let go and let your senses guide your way. Please no photos without explicit consent from your subjects. Please also note that while this event has some similarities to our Eros: Black & Red nights, it is not a LUST collaboration, and will not feature LUST performers. Think of it as a dance party with a built-in makeout party.
*All tickets offer the same access to the event. Please support at the level you can afford

MASKED—A Hedonistic Masquerade
Sunday, December 31, 2017 — 9:00 p.m. to 4:00 a.m.
Venue: GEMINI & SCORPIO LOFT
Brooklyn, NY

DJ Ceremony profiles:


Sign up for the DJ Ceremony mailing list for information on upcoming events and dates. You may unsubscribe from the mailing list any time by replying to any e-mail with "Remove" in the subject line of your e-mail.