DJ Ceremony Spins at Night 1 of LUST/Gemini & Scorpio's "Eros" (12/29)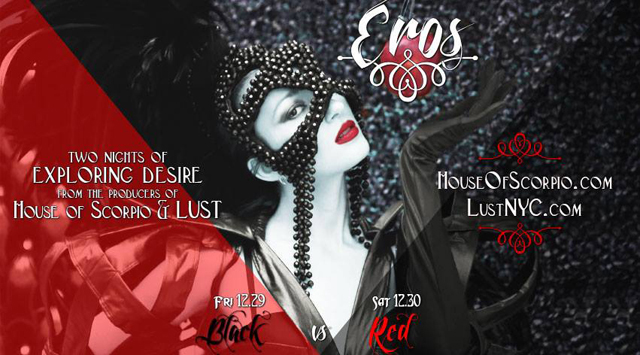 LUST & Gemini & Scorpio present:
"EROS"—2 Nights of Exploring Desire
Friday, December 29, 2017 & Saturday, December 30, 2017 at Gemini & Scorpio Loft
9:00 p.m. to 4:00 a.m.
With DJ: (Friday, December 29 only)
• DJ Ceremony ("Oscillate Wildly" / "Disintegration" / "25 Underground")

Friday, December 29, 2017 & Saturday, December 30, 2017 at Gemini & Scorpio Loft
9:00 p.m. to 4:00 a.m.
$40-60; $30 after midnight on Friday only. All ticket levels offer the same access to the event; please support at the level you can afford.
Gemini & Scorpio Loft in Gowanus, BK – see http://www.houseofscorpio.com for address
Please arrive with a PAL and be familiar with our Code of Conduct.
Instructions on how to attend are at the bottom of this invite.
Rules & location: http://www.houseofscorpio.com/
FB: https://www.facebook.com/events/150916088865749
FL: https://fetlife.com/events/615608
Two nights of exploring desire from House of Scorpio, purveyors of the infamous underground makeout & play parties, and LUST, makers of extravagant erotic nightlife. On Friday, engage in intense intimacy and fetishistic foreplay before diving into the deep end Saturday night, where the rating increases from NC-17 to decidedly X.
Dress code: over-the-top sexiness, lingerie, fetish, leather, lace, latex, rubber, vinyl, straps, corsets, tutus, steampunk, neo-Victorian, goth, dark Lolita, dandy, fantasy, festival. TimeOut said it best: "convention-busting clothing with a sexy, creative flair." If in doubt, go formal. No casual or business attire; door man WILL turn you away. Yes, you can change when you get here.
These are CLOSED and strongly vetted events, not open to the general public. Tickets are extremely limited and will go fast. Instructions on how to attend are at the bottom of this invite.

Friday, Dec 29 – Eros: Black
Friday only: if space allows, pre-approved guests can buy $30 tickets at door after midnight (all rules apply)
Leather and lace. Blindfolds and handcuffs. Whips and chains. Pleasure and pain.
Step into our dungeon and give in to your darkest passions. Escape reality and bring out your inner dom(me) or sub…along with your favorite implements of torture and ecstatic pleasure. Watch or play. Don't know how? We'll teach you…or perhaps some of our other guests will.
Featuring:
• Roaming Dommes
• Spanking station
• Violet wand
• Flogging
• Hot wax play
• Rigging point for shibari and suspension play
• Foot worship
• Erotic performances by Abby Hertz and Nola Kodish
• Your dungeon Mistresses for the night: Kayla Lael & Vonka Romanov
• Special Violet Wand Flogging by Alesha Sedasey
For your dancing pleasure, DJ Ceremony ("Svmmon: A Dark Dance Experience," "Disintegration"—Cure Immersion Party) will spin Trip-Hop, Industrial, Darkwave, Synth and Dark '80s.
Come prepared for a night of full immersion and interaction. But: while touching, nudity & kink play are encouraged, there is no sex at this event.

Saturday, Dec 30 – Eros: Red
Saturday only: please arrive by 11:45pm, as doors will be locked at 12am.
House of Scorpio and LUST go full throttle in a way you've only imagined in your dreams. A night of sensory exploration, with multiple "sensation stations" for you to experience everything from softest touch to pain-as-pleasure. Ask and you shall receive permission to engage in a night of hedonistic abandon. Anything goes at this one.
• The night begins with Lip Service style make-out sessions
• Spin the Bottle
• Sensory stations to indulge your inner heathen
• Massage
• Violet Wand
• Hot wax play
• Opening ritual by Abby Hertz
• Plenty of play areas for a full throttle environment

To be considered for attendance:
First: read PAL requirements and code of conduct at http://www.houseofscorpio.com
Then: Email us at scorpio@houseofscorpio.com with links to yours and your PAL's Facebook, OKCupid or other detailed online profile to get approved & get link for advance tickets. Once you're approved, you may also buy tickets at the door (if available) by showing your approval email. We will always update the event's Facebook page with the latest ticket info.
To get the location address anytime, fill out the loft location form on our site for an auto-reply (also revealed with ticket purchase).

About House of Scorpio: colorful erotic and sex-positive events for the creative underground since 2012, including the infamous makeout parties alongside play events, classes, and even a porn star-led book club. Voted "Best of New York" by TimeOut magazine. http://www.houseofscorpio.com
About LUST: LUST is an immersive, erotic event series produced by artist Abby Hertz. Established in 2015, LUST has been featured in The New York Times, Cosmopolitan Magazine, The London Times, The NY Post, The Sun, Huffington Post, and VICE. http://www.lustnyc.com

EROS—2 Nights Of Exploring Desire
Friday, December 29, 2017 & Saturday, December 30, 2017 — 9:00 p.m. to 4:00 a.m.
Venue: GEMINI & SCORPIO LOFT
Brooklyn, NY

DJ Ceremony profiles:


Sign up for the DJ Ceremony mailing list for information on upcoming events and dates. You may unsubscribe from the mailing list any time by replying to any e-mail with "Remove" in the subject line of your e-mail.