"Sound & Vision"—The Alternative In J.C. Nightlife: Holiday Party: 12/9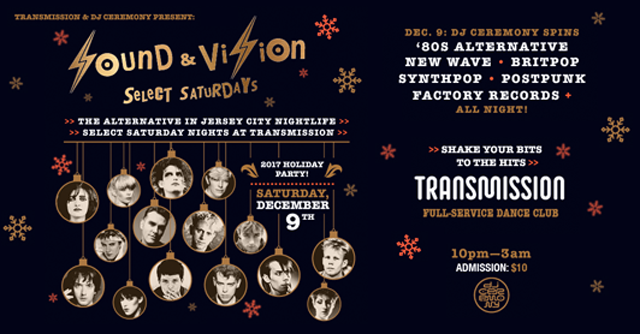 DJ Ceremony & Transmission present:
"SOUND & VISION"
The Alternative In Jersey City Nightlife
Select Saturday Nights At Transmission, Jersey City
Holiday Party 2017: Saturday, December 9, 2017
With:
• DJ Ceremony ("Oscillate Wildly" / "25 Underground" / "Beetlebum")


Purchase advance tickets on Eventbrite here:



Thanks to everyone that came out to the October 2017 return of "Sound & Vision…" it was a great time for all! Let's do one more to close out 2017. Mark those calendars for Saturday, December 9th for another epic night on the dance floor.
For those new to "Sound & Vision," dance all night as DJ Ceremony provides an all night soundtrack of the best in '80s Alternative, Classic '90s Britpop, New Wave, Manchester Postpunk, Indie, Synthpop, Factory Records, & more. Transmission, a gorgeous industrial-chic dance club, offers private seating, 2-rooms, film/music video projections, and more! Party runs 10pm to 3am. See you on the dance floor!
At "Sound & Vision," dance to the likes of The Cure, David Bowie, The Smiths, Pulp, New Order, Siouxsie And The Banshees, Joy Division, Morrissey, The Stone Roses, Echo & The Bunnymen, OMD, Depeche Mode, Pet Shop Boys, a-Ha, Adam Ant, Pixies, Duran Duran, The Human League, Berlin, Erasure, Gang of Four, Blondie, Suede, Blur, The Clash… and much more!… bring your best requests!
Venue: Transmission
150 Bay Street (BTW Marin & Provost)—Downtown Jersey City
(5 minute walk from Grove St. Path)
(2 stop Path ride from Manhattan)
Admission: $10
www.ClubTransmission.com
#SoundAndVisionJC

DJ Ceremony profiles:


Sign up for the DJ Ceremony mailing list for information on upcoming events and dates. You may unsubscribe at any time.