DJ Ceremony Spins @ Gemini/Scorpio's Stranger Things Halloween 10/28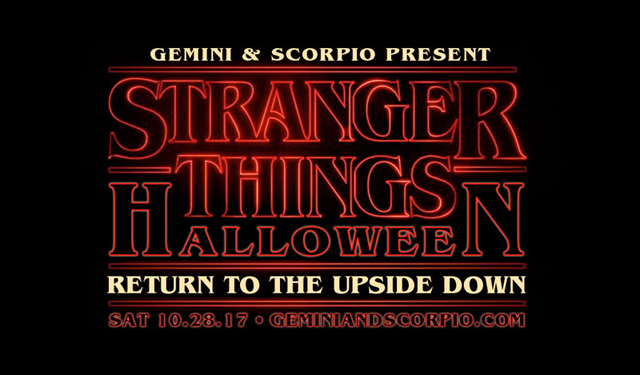 Gemini & Scorpio's
"STRANGER THINGS HALLOWEEN"—RETURN TO THE UPSIDE DOWN
(9TH ANNUAL MASQUERADE MACABRE)
At Chemistry Creative
SATURDAY, October 28, 2017
With:
• DJ Ceremony ("Oscillate Wildly" / "25 Underground" / "Beetlebum")
• Other DJ talent TBA


Gemini & Scorpio writes:
Hawkins, Indiana. 1983. A little boy is missing. Help us find Will… is he in the forest? Hiding in his secret cabin? Is that him calling? What is making those lights blink?
We're transforming a Bushwick warehouse into an immersive environment directly inspired by Netflix'S horror hit "Stranger Things." Enter the upside down… if you dare. Get lost in the forest (by artist Sara Jane Munford). Face off with a mind-reading government agent (Nelson Lugo). Chill in the blanket fort. Eat all the Eggos. Join a seance to find the missing kids (Marcy Currier). Indulge in handcrafted absinthe (House of St Eve) and specially themed drinks. All the while, our DJs will keep the beat going to keep you dancing into the morning.
Costumes required for entry:
This is our annual love letter to all things dark and grotesque. Dark + 1980s suggestions for Stranger Things: creepy forest creatures, aliens, Jason, ET, Chucky. Usual Masquerade Macabre style welcome: dark carnival, aberrations of nature, cabinet of curiosities, dark Victoriana, evil funhouse, steampunk, Jan Svankmaier & Brothers Quay films, Freaks, The Cabinet of Dr. Caligari. Yes, all manner of Halloween costumes are welcome as well…but please remember: if we have to ask, it's not a costume (meaning: 1980s casual trying to be a Stranger Things kid won't cut it).
Press:
"Live music, dancing, absinthe and the dark arts" – The New York Times. "Late-night absinthe-fueled revelry, with dancing, circus arts, and a Victorian-inspired dress code." – The Village Voice. "Expect off-the-wall antics" – Huffington Post. "Denizens of the night…down absinthe until the sun rises." – TimeOut New York. "Absinthe-fueled debauchery." – Paper. "Vintage-inspired spectacle." – New York Press. "This quintessential New York experience, a costume-required masquerade ball, offers a cornucopia of pleasures guaranteed to keep you going all night (and morning) long." – Flavorpill. "Collection of artists who revel in all things exotic, sensual and creative." – Examiner
*All ticket tiers offer the same access to the event. An additional $25 gets you a commemorative Masquerade Macabre hip flask engraved with the monster hybrid Victorian couple from our usual event flyer.

Venue: Chemistry Creative
305 Ten Eyck Street
Gowanus, Brooklyn, NY

DJ Ceremony profiles:


Sign up for the DJ Ceremony mailing list for information on upcoming events and dates. You may unsubscribe at any time.