"Sound & Vision" Returns To Transmission, Jersey City: Saturday, Oct. 21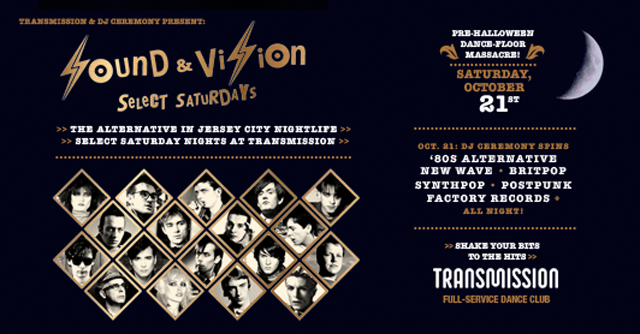 "SOUND & VISION" RETURNS
The Alternative In Jersey City Nightlife
Select Saturday Nights At Transmission, Jersey City
Next Party: Saturday, October 21, 2017
With:
• DJ Ceremony ("Oscillate Wildly" / "25 Underground" / "Beetlebum")


Special Eventbrite promotion! Receive a complimentary drink with advance Eventbrite purchase! Present proof of advance Eventbrite ticket purchase to door person to receive your complimentary drink ticket.


We promised that we'd hold future "Sound & Vision" events on select nights, and so that's exactly what we're doing… just in time to kick-off the Halloween 2017 season! We can't wait to start this new series of Sound & Vision nights, please join us on Saturday October 21st to kick-off this new era! Tell your friends.
For those new to Sound & Vision, dance all night as DJ Ceremony provides an all night soundtrack of the best in '80s Alternative, Classic '90s Britpop, New Wave, Manchester Postpunk, Indie, Synthpop, Factory Records, & more. Transmission, a gorgeous industrial-chic dance club, offers private seating, 2-rooms, film/music video projections, and more! Party runs 10pm to 3am. See you on the dance floor!
At "Sound & Vision," dance to the likes of The Cure, David Bowie, The Smiths, Pulp, New Order, Siouxsie And The Banshees, Joy Division, Morrissey, The Stone Roses, Echo & The Bunnymen, OMD, Depeche Mode, Pet Shop Boys, a-Ha, Adam Ant, Pixies, Duran Duran, The Human League, Berlin, Erasure, Gang of Four, Blondie, Suede, Blur, The Clash… and much more!… bring your best requests!
Venue: Transmission
150 Bay Street (BTW Marin & Provost)—Downtown Jersey City
(5 minute walk from Grove St. Path)
(2 stop Path ride from Manhattan)
Admission: $10
www.ClubTransmission.com
#SoundAndVisionJC

DJ Ceremony profiles:


Sign up for the DJ Ceremony mailing list for information on upcoming events and dates. You may unsubscribe at any time.

Join the "Sound & Vision" Facebook group for guest DJ info, special announcements, party photo galleries, promotions and giveaways, and more.