DJ Ceremony DJs at "SVMMON"—A Dark Dance Experience: Friday 10/13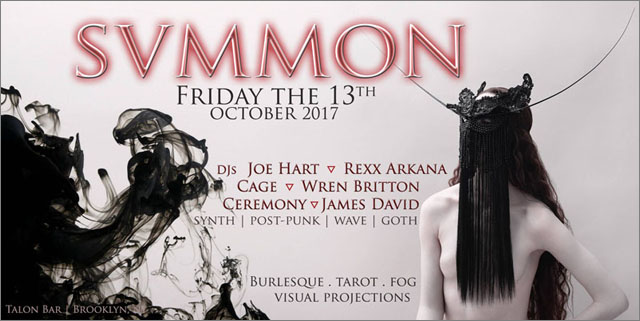 Joe Hart presents:
"SVMMON"
A Dark Dance Experience at Talon Bar, Brooklyn
Next edition:
Friday, October 13, 2017
Synth | Wave | Post-punk | Goth by:
• Joe Hart (Procession, Svmmon)
• Rexx Arkana (Coldkill, FGFC820, Bruderschaft)
• DJ Ceremony (Oscillate Wildly, 25 Underground)
• Cage (Procession)
• Wren Britton (Dorian Gray, Disko Nouveaux)
• James David (Fiends4Evr, Glamdammit)

Brooklyn's Multi-floor dark dance event! Downstairs: Decadent dance party. Upstairs: Lounge & outdoor terrace. Creative looks are encouraged. Your leather & lace, lingerie, witchy, fetish, and dark & dapper attire is welcome!
• Burlesque by Penny Wren
• Ritual Visuals with Madame Rosebud
• Tarot Readings
• Visual Projections
Friday, October 13, 2017 — 10pm to 4am
Venue: Talon Bar — 220 Wyckoff Avenue; Brooklyn.

DJ Ceremony profiles:


Sign up for the DJ Ceremony mailing list for information on upcoming events and dates. You may unsubscribe at any time.