"BEETLEBUM"—Brooklyn Britpop Night! Sat. Sept. 2nd at Saint Vitus BK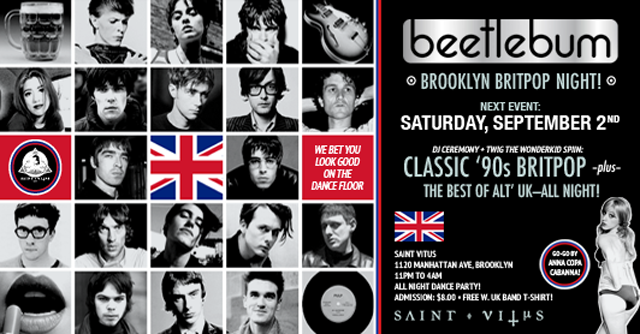 DJ Ceremony & Saint Vitus present:
"BEETLEBUM"—Brooklyn Britpop Night! at SAINT VITUS
Next event: Saturday, September 2, 2017.
(Party occurs every other month on 1st Saturdays)
With DJs:
• DJ Ceremony ("Oscillate Wildly" / "Disintegration" / "25 Underground")
• Twig The Wonderkid ("Glamdammit" / "Trash!")

The second coming! Come party like it's 1994… Mark your calendars for September 2nd for the next edition of the exciting new Britpop night in Brooklyn: BEETLEBUM, occurring bi-monthly at the stylish live music venue SAINT VITUS. Sure to be one of the best Britpop parties celebrating "Cool Britannia" in the tri-state, we'll be spinning your favorites until we're shut down! BEETLEBUM is your home for Britpop in Brooklyn & NYC, so get ready for an epic night! Special guest go-go by the one and only Anna Copa Cabanna!
Dance all night to Britpop bangers from the likes of Blur, Stone Roses, Pulp, Suede, Happy Mondays, Oasis, James, Sleeper, Lush, Supergrass, Charlatans, Elastica, Primal Scream, Placebo, The Verve, Cast, Black Grape, Cornershop, Super Furry Animals, Manic Street Preachers, and more… all night!
-plus- we're sure to mix-in alternative UK legends like Joy Division, Bowie, The Cure, The Smiths, New Order, The Clash, The Jam, Jesus & Mary Chain, Madness, etc!
• DJ Ceremony behind the decks all night
• Go-go by Anna Copa Cabanna
• UK-themed music films on the big screen
• $8 standard admission
• Free admission with Britpop / British band t-shirt!
• 21 and up
Saturday, September 2, 2017 — 11:00 p.m. to 4 a.m.
Venue: SAINT VITUS — 1120 Manhattan Avenue (BTW Clay & Box Streets)
Brooklyn, NY
"Dance and drink and screw (because there's nothing else to do)"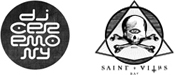 DJ Ceremony profiles:


Sign up for the DJ Ceremony mailing list for information on upcoming events and dates. You may unsubscribe from the mailing list any time by replying to any e-mail with "Remove" in the subject line of your e-mail.