"Sound & Vision"—Fridays @ Transmission Jersey City: The Finale! June 9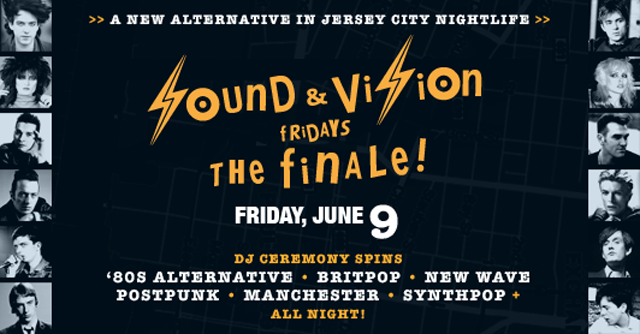 "SOUND & VISION"
A New Alternative In Jersey City Nightlife
Transmission, Jersey City
The Final Party: Friday, June 9, 2017
With:
• DJ Ceremony ("Oscillate Wildly" / "25 Underground")


The end of an era! This Friday night will be the finale of "Sound & Vision" Fridays at Transmission. A sincere THANK YOU to everyone that came to our party this year, and a BIG thank you to recurring attendees! (You know who you are! ) Let's go out with a bang Friday night! I (DJ Ceremony) personally had a blast at every single edition of the party, and so I expect this Friday to be no exception. Bring your friends out this Friday for an epic night out! As for the future of the party, we are considering the possibility of doing selectively curated nights… how often would you like us to throw Sound & Vision? Quarterly? Bi-monthly? Monthly? Let us know!
Dance all night as DJ Ceremony provides an all night soundtrack of the best in '80s Alternative, Classic '90s Britpop, New Wave, Manchester Postpunk, Indie, Synthpop, Factory Records, & more. Transmission, a gorgeous industrial-chic dance club, offers private VIP seating, 2-rooms, film/music video projections, and more! Party runs 10pm to 3am every Friday night. See you on the dance floor!
At "Sound & Vision," dance to the likes of The Cure, David Bowie, The Smiths, Pulp, New Order, Siouxsie And The Banshees, Joy Division, Morrissey, The Stone Roses, Echo & The Bunnymen, OMD, Depeche Mode, Pet Shop Boys, a-Ha, Adam Ant, Pixies, Duran Duran, The Human League, Berlin, Erasure, Gang of Four, Blondie, Suede, Blur, The Clash… and much more!
Venue: Transmission
150 Bay Street (BTW Marin & Provost)—Downtown Jersey City
(5 minute walk from Grove St. Path)
(2 stop Path ride from Manhattan)
Admission: $10
www.ClubTransmission.com
#SoundAndVisionJC

DJ Ceremony profiles:


Sign up for the DJ Ceremony mailing list for information on upcoming events and dates. You may unsubscribe at any time.

Join the "Sound & Vision" Facebook group for guest DJ info, special announcements, party photo galleries, promotions and giveaways, and more.