DISORDER (Joy Division tribute) + "25 Underground": Wed. 5/31 at Berlin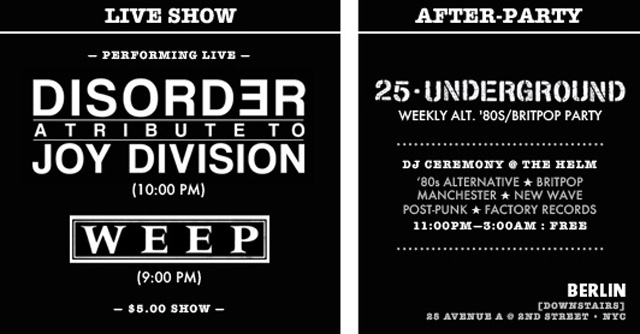 Berlin presents:
DISORDER (Joy Division Tribute) & WEEP Live + "25 UNDERGROUND" (After-party) at BERLIN
2 events: One night!
Wednesday, May 31, 2017.
With:
• WEEP – 9:00pm
• DISORDER – 10:00
• "25 UNDERGROUND" (After-party) – 11:00

Part 1:
DISORDER LIVE
[A Tribute To The Sounds of Joy Division]
(Show: 10:00pm.)
Disorder, the premier tribute to the sounds of Joy Division, was conceived in 2012 among the fitting ironic despair of Asbury Park, NJ. The basic idea, to recreate Joy Division's music with an unwavering focus on authenticity and live performance, was and remains their premise. The band is unmatched in its ability to harness the true and unbridled passion of Joy Division and their music. Disorder's energetic and emotional live performance is no simple generic interpretation of an iconic music catalog. How Joy Division played it, is exactly how Disorder plays it. From the audience, one can close their eyes and get lost in this masterful recreation – feeling as if they have stepped back into a 1980's smoke filled Hacienda. While already in high demand in the greater New York Metropolitan area, Disorder has provided support for major label acts such as Modern English, Dead Can Dance, and David J of Bauhaus. Disorder has also had the distinct honor of headlining a 2012 CMJ after party at BB Kings in NYC for New Order.
-plus-
WEEP LIVE
(Show: 9:00pm.)
NYC's Weep combines elements of ethereal wave, gothic rock, shoegazing, post-punk and synthpop. Formed in 2008 by singer and guitarist Eric "Doc" Hammer, formerly of Requiem in White and Mors Syphilitica. Weep's music has been described as dark and expansive, with "shimmering guitars and spacy synthesizers." Hammer's singing voice has been noted for its gravelly, robotic qualities which provide a counterpoint to the lush song arrangements.
Admission for live shows: $5 at door.
(Free after-party with admission!)
† † † † † † † † † † † † † † † † † † † † † † † † † † † † † † † † † † † † † † † † † † † † † † † † † † † † † † † †
Part 2:
"25 UNDERGROUND"
[Weekly Wednesday Night Alt' 80s/Britpop Party at Berlin, EV]
Immediately after the Disorder show.
Approx. 11:00pm. Party continues until 3am.
Join us every Wednesday night for late night revelry at the very stylish subterranean hidaway BERLIN in the East Village. DJ Ceremony spins a lively mix of Alternative '80s, Britpop, New Wave, Manchester, Factory Records, & Post-Punk until late. Bring your dancing shoes!
Admission: Free

Wednesday, May 31, 2017 — 9pm to 3am
Venue: BERLIN (Downstairs) — 25 Avenue A (at 2nd Street)
East Village: New York City


Sign up for the DJ Ceremony mailing list for information on upcoming events and dates. You may unsubscribe from the mailing list any time by replying to any e-mail with "Remove" in the subject line of your e-mail.