"COUPLET"—A Quarterly Poetry Reading Series & Social: Fri. April 21st

Leah Umansky & DJ Ceremony present:
"COUPLET"—A Quarterly Poetry Reading Series & Social at The Delancey, LES.
National Poetry Month 2017 Edition: Friday, April 21, 2017 at The Delancey.
Produced by Leah Umansky & DJ Ceremony and hosted by poet Leah Umansky, Couplet is a quarterly reading series held on the Lower East Side featuring both emerging and established poets. Every event features music & after-party by DJ Ceremony.
#CoupletNYC


This edition's featured poets:
1. Nin Andrews
Nin Andrews' poems have appeared in many literary journals and anthologies including Ploughshares, Agni, The Paris Review, and four editions of Best American Poetry. She is the author of 7 chapbooks and 7 full-length poetry collections. Her collection, Why God Is a Woman, won the Ohioana Award for 2016. Her next book, Miss August, will be published by CavanKerry Press in 2017.
2. Jan Beatty
Jan Beatty's fifth book, Jackknife: New and Selected Poems, was published in January, 2017 by the University of Pittsburgh Press. Her latest book, The Switching/Yard was named by Library Journal one of …30 New Books That Will Help You Rediscover Poetry. The Huffington Post named Beatty one of ten women writers for "required reading." Books include Red Sugar, Boneshaker, and Mad River, winner of the Agnes Lynch Starrett Prize, all published by University of Pittsburgh Press. She directs the creative writing program at Carlow University, where she runs the Madwomen in the Attic writing workshops and teaches in the MFA program.
3. Omotara James
Omotara James is the recipient of Slice Literary's 2016 Bridging the Gap Award for Emerging Poets, as well as the Nancy P. Schnader Academy of American Poets Award. Her work has appeared or is forthcoming in Winter Tangerine, Crab Fat Magazine, Cosmonaut's Avenue and elsewhere. She has received scholarships from Cave Canem, is a Home School Alum and was recently invited to read at The Poetry Project. Currently, she edits Visceral Brooklyn and is working on a children's book. For contact information, please visit her website: www.omotarajames.com.
4. Keegan Lester
Keegan Lester is an American poet splitting time between New York City and Morgantown, West Virginia. The winner of the 2016 Slope Editions Book Prize, selected by Mary Ruefle, for his collection this shouldn't be beautiful but it was & it was all i had, so i drew it. His work is published in or forthcoming from the Boston Review, The Atlas Review, Powder Keg, BOAAT Journal, The Journal, Phantom Books, Tinderbox, CutBank, and Sixth Finch, among others, and has been featured on NPR, The New School Writing Blog, and Coldfront Magazine. He is the co-founder and poetry editor for the journal Souvenir Lit.
5. Jen Levitt
Jen Levitt's debut collection is The Off-Season (Four Way Books, 2016). She received her MFA from NYU, and her poems appear in Boston Review, DIAGRAM, Sixth Finch, Tin House and elsewhere. She lives in New York City and teaches high school students.
6. Roberto Montes
Roberto Montes is the author of I DON'T KNOW DO YOU, named one of the Best Books of 2014 by NPR and a finalist for the 2014 Thom Gunn Award for Gay Poetry from The Publishing Triangle. His poetry has appeared in or is forthcoming from The Lambda Literary Spotlight, Guernica, PEN America Poetry Series, and elsewhere. A new chapbook, GRIEVANCES, is now available from the Atlas Review TAR chapbook series.

Your Hostess:
Leah Umansky is a poet, collagist and teacher in New York City.  Her dystopian-themed chapbook, Straight Away the Emptied World is out now from Kattywompus Press in 2016. Her poems can be found in such places as POETRY, Thrush Poetry Journal, Faerie Magazine, Barrow Street and MAGMA. Some of her Game of Thrones inspired poems have been translated into Norwegian by Beijing Trondheim.
Your DJ:
Co-producer of Couplet, DJ Ceremony has played at well over 150 venues in and around New York City since 2001. He is the current producer and DJ of the celebrated NYC Smiths & Morrissey fan party "Oscillate Wildly," which is now in its eighth year. He also founded and co-produced a weekly neo-burlesque and variety show: "Corruption At Tammany Hall" in 2012, and produces an array of specialized themed parties on select dates around New York City. He can currently be heard at his two weekly DJ residencies: Berlin in the East Village (Wednesdays), and Transmission in Jersey City (Fridays). www.djceremony.com

The fine folks at Time Out New York named COUPLET one of the "best places to hear poetry aloud" in their August 14th, 2014 issue… we couldn't agree more!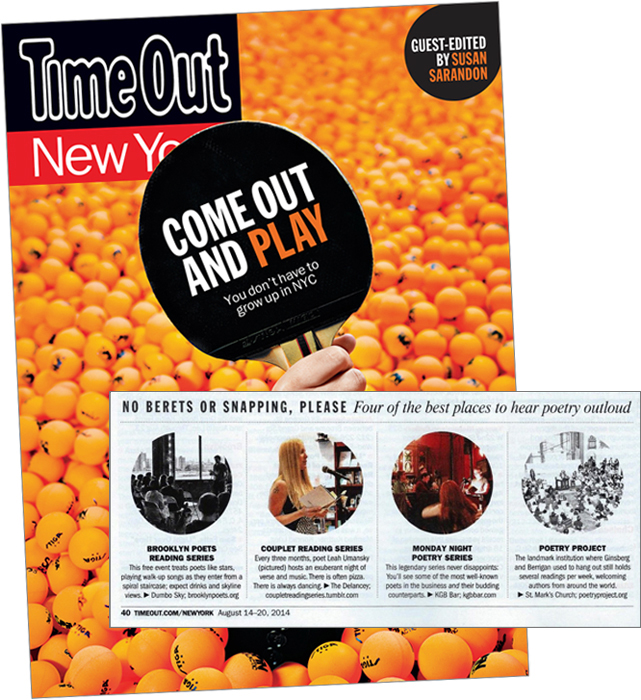 Leah Umansky & DJ Ceremony present:
"COUPLET"—A Quarterly Poetry Reading Series & Social
National Poetry Month 2017 Edition
Hosted by poet Leah Umansky with music by DJ Ceremony
Friday, April 21, 2017, 7 to 10 PM
Venue: The Delancey, Lower live performance level
168 Delancey Street (Between Clinton & Attorney)
Lower East Side, NYC
#CoupletNYC