"IRISH BLOOD, ENGLISH HEART"—Smiths/Morrissey St. Patrick's Day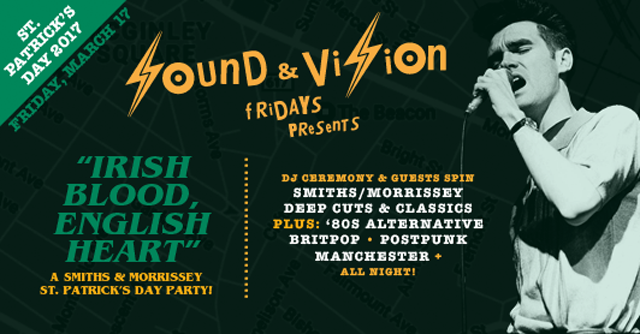 "SOUND & VISION"
A New Alternative In Jersey City Nightlife
Every Friday Night at Transmission, Jersey City
Special Edition: Friday, March 17, 2017
"IRISH BLOOD, ENGLISH HEART"—A Smiths/Morrissey St. Patrick's Day Party

With:
• DJ Ceremony ("Oscillate Wildly")


Sound & Vision is excited to present a special edition of its party for St. Patrick's Day 2017: "IRISH BLOOD, ENGLISH HEART" A Special Tribute to Morrisey and The Smiths! All night, we'll be delving heavily into the catalogues of The Smiths & Morrissey solo, showcasing the most beloved classics, to b-sides, and fan favorites all night. To round out the sound, we'll also be complimenting the theme with the best in Classic '90s Britpop, Manchester, Factory Records, & Postpunk.
About "Sound & Vision":
DJ Ceremony & Transmission are thrilled to be bringing an exciting new Alternative club scene to the heart of Jersey City (Steps from the Grove Street Path station, and two Path stops from Manhattan) ★ "SOUND & VISION" Every Friday night at Club Transmission. Dance all night as DJ Ceremony ("Oscillate Wildly") and guest DJs provide an all night soundtrack of the best in '80s Alternative, Classic '90s Britpop, New Wave, Postpunk, Indie, Synthpop, Manchester & more. Transmission, a gorgeous full-service 5,000 sq. ft. dance club, offers VIP seating, 2-rooms, film/music video projections, for only $10 all night! Party runs 10pm to 3am every Friday night. See you on the dance floor… and spread the word!
Venue: Transmission
150 Bay Street (BTW Marin & Provost)—Downtown Jersey City
(5 minute walk from Grove St. Path)
(2 stop Path ride from Manhattan)
www.ClubTransmission.com
#SoundAndVisionJC

DJ Ceremony profiles:


Sign up for the DJ Ceremony mailing list for information on upcoming events and dates. You may unsubscribe from the mailing list any time by replying to any e-mail with "Remove" in the subject line of your e-mail.

Join the "Sound & Vision" Facebook group for guest DJ info, special announcements, party photo galleries, promotions and giveaways, and more.