DJ Ceremony Spins Saturdays @ Falcon Laundry: WMBG. (Next: Feb. 18)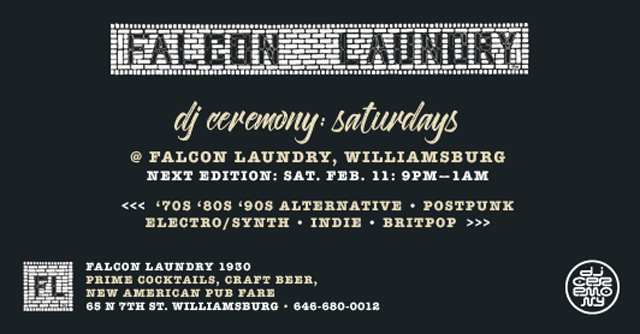 DJ Ceremony spins at Falcon Laundry, Williamsburg, Brooklyn—Saturdays.
Next edition: Saturday, February 18, 2017


<<< '70s '80s '90s ALTERNATIVE • POSTPUNK • ELECTRO/SYNTH • INDIE • BRITPOP >>>
Neighborhood Bar, Prime Cocktails, Craft Beer & Roof Deck. Nourishing New American Pub Fare in the heart of Williamsburg, Brooklyn. Kitchen serving until midnight.
• Free
• 21 and up
DJ Ceremony at Falcon Laundry: Saturdays.
Next edition: Saturday, February 18, 2017 — 9:00 p.m. to 1 a.m.
Venue: FALCON LAUNDRY 1930 — 65 North 7th Street (BTW Wythe & Kent Avenues)
Williamsburg: Brooklyn
(646) 680-0012


Sign up for the DJ Ceremony mailing list for information on upcoming events and dates. You may easily unsubscribe from the mailing list any time.

DJ Ceremony profiles: