"COUPLET"—A Quarterly Poetry Reading Series & Social: Sat. April. 30th

Leah Umansky & DJ Ceremony present:
"COUPLET"—A Quarterly Poetry Reading Series & Social at The Delancey, LES.
National Poetry Month 2016 Edition : Saturday, April 30, 2016 at The Delancey.
Produced by Leah Umansky & DJ Ceremony and hosted by poet Leah Umansky, Couplet is a quarterly reading series held on the Lower East Side featuring both emerging and established poets. Every event features music & after-party by DJ Ceremony.
#CoupletNYC


This edition's featured poets:
1. CLAUDIA CORTESE
Claudia Cortese's first full-length book, Wasp Queen, will be published by Black Lawrence Press in 2016. Cortese is also the author of two chapbooks: Blood Medals (Thrush Poetry Press, 2015) and The Red Essay and Other Histories (Horse Less Press, 2015).
2. SHARON DOLIN
Sharon Dolin was born and raised in Brooklyn, New York. A Fulbright Scholar to Italy, she holds a Ph.D. in English from Cornell University and an M.A. in English from the University of California at Berkeley. She holds a B.A. and graduated Magna cum laude in English from Cornell University.
3. KAREN HILDEBRAND
Karen Hildebrand's poetry has appeared most recently in Poet Lore, Maintenant, decomP magazineE, In Passing (great weather for MEDIA), WomenArts Quarterly, EDGE and other journals, and was adapted for the play, "The Old In and Out," produced off-off Broadway in 2013. She is editor in chief forDance Teacher magazine and in 2015 was Artist in Residence at Ravens' View Farm, in British Columbia, Canada.
4. CLARK MOORE
Clark Moore lives in Hastings-on-Hudson, New York. He is the beverage director and general manager of a farm-to-table restaurant, and teaches English at a local college. His poems have appeared in Barrow Street and are forthcoming in Poetry Magazine.
5. EMILIA PHILLIPS
Emilia Phillips is the author of two poetry collections from the University of Akron Press, Groundspeed (2016) and Signaletics (2013), and three chapbooks. Her poems and lyric essays appear in Agni, Boston Review, Gulf Coast, The Kenyon Review, New England Review, Ninth Letter,Poetry, Ploughshares, StoryQuarterly, and elsewhere. She is the Assistant Professor of Creative Writing at Centenary College of New Jersey. For more info, visit her website at http://emiliaphillips.com.
6. MELISSA STUDDARD
Melissa Studdard is host of VIDA Voices & Views and an editor for American Microreviews and Interviews. She is the author of the novel, Six Weeks to Yehidah, a poetry collection, I Ate the Cosmos for Breakfast, and a collection of interviews, The Tiferet Talk Interviews. Her awards include the Forward National Literature Award and the International Book Award, among others. Her poetry, fiction, essays, reviews and articles have appeared in a wide range of publications, including Poets & Writers, Tupelo Quarterly, Psychology Today, Pleiades, and the Academy of American Poets' Poem-A-Day. Of her debut poetry collection, I Ate the Cosmos for Breakfast, Robert Pinsky writes, "This poet's ardent, winning ebullience echoes that of God…" and Cate Marvin says her work "would have no doubt pleased Neruda's taste for the alchemic impurity of poetry." Learn more at www.melissastuddard.com.

Your Hostess:
Leah Umansky is a poet, collagist and teacher in New York City.  Her dystopian-themed chapbook, Straight Away the Emptied World is out now from Kattywompus Press in 2016. Her poems can be found in such places as POETRY, Thrush Poetry Journal, Faerie Magazine, Barrow Street and MAGMA. Some of her Game of Thrones inspired poems have been translated into Norwegian by Beijing Trondheim.
Your DJ:
Co-producer of Couplet, DJ Ceremony has played at well over 150 venues in and around New York City since 2001. He is the current producer and DJ of the celebrated monthly NYC Smiths & Morrissey fan party "Oscillate Wildly". He also founded and co-produced a weekly neo-burlesque and variety show: "Corruption At Tammany Hall" in 2012, and currently produces an array of special themed parties around New York City. www.djceremony.com

The fine folks at Time Out New York named COUPLET one of the "best places to hear poetry aloud" in their August 14th, 2014 issue… we couldn't agree more!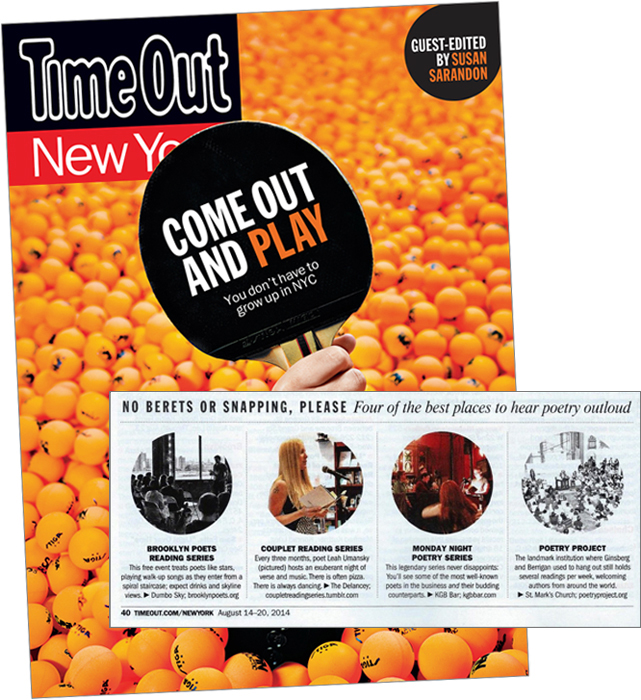 Leah Umansky & DJ Ceremony present:
"COUPLET"—A Quarterly Poetry Reading Series & Social
National Poetry Month 2016 Edition
Hosted by poet Leah Umansky with music by DJ Ceremony
Saturday, April 30, 2016, 7 to 10 PM
Venue: The Delancey, Lower live performance level
168 Delancey Street (Between Clinton & Attorney)
Lower East Side, NYC
#CoupletNYC