"MOVEMENT" A New Order At Radio City Concert After-Party: 3/10/16

DJ Father Jeff, DJ Ceremony, & Danny White present:
"MOVEMENT"
The After-Party For New Order At Radio City (& Joy Division / New Order Tribute Night)
Music by DJ Ceremony ("Oscillate Wildly"), DJ Father Jeff ("Ward 6") and Danny White ("Fine Time")
Thursday, March 10, 2016 at Windfall.


New Order returns again to New York City to play a concert at Radio City Music Hall on March 10, 2016. To mark the occasion, and to pay tribute to one the most legendary Post-Punk / Dance bands of all time, DJ Father Jeff, DJ Ceremony & Danny White spin a night of Joy Division, New Order, UK Post-Punk, New Wave, and '80s Dance at Manhattan's Windfall.
Few groups change music history, but the founding members of New Order managed to do it twice. They became legends first as Manchester's Joy Division, pioneering the Post-Punk sound combining frontman Ian Curtis' poignant lyrics with the band's driving rhythms and arresting guitar textures. It didn't take long for electronics to enter the world of Joy Division—Ian Curtis even arranged that Kraftwerk songs be played before some of their legendary live gigs. Prominent synths are present in the late J.D. single "Love Will Tear Us Apart," and it seemed that Joy Division's palette of sound was open to fresh influences. After the unexpected suicide of Ian Curtis in May of 1980, drummer Stephen Morris, guitarist/keyboardist Bernard Sumner, and bassist Peter Hook immediately carried on, maintaining the momentum of Joy Division's rise, and not allowing the music to die with Ian. Bernard Sumner became the band's new vocalist and lyric writer, the band changed its name to New Order, and Stephen Morris' girlfriend Gillian Gilbert was recruited as a permanent keyboard player (Gillian had previously performed onstage with Joy Division in an impromptu manner at least once). New Order's debut album, "Movement" seems to echo the sound of Joy Division the most (Sumner does seem to emulate the singing style of Curtis on these early tracks). The mood is dark, but the sound is also noticeably more electronic. While "Movement" is not New Order's strongest LP, it is fascinating to hear all of the elements in place that the band would use to form the radically new electronic sound that their music would evolve into. New Order went on to master their craft in the '80s with a run of classic albums such as 1983's "Power, Corruption & Lies," 1985's "Low-Life," 1986's "Brotherhood," and 1989's "Technique." New Order also issued a steady stream of non-album singles during the same period, such as the genre-defining dance classic "Blue Monday," commonly cited as the highest selling 12″ single of all time.
• 21 & up.
• $8. $6 with party flyer. $4 with New Order ticket stub.
MOVEMENT
The After-Party For New Order At Radio City (& Joy Division / New Order Tribute Night)
Thursday, March 10, 2016 — 10:00 p.m. to 4:00 a.m.
Venue: WINDFALL — 23 West 39th Street (Between 5th & 6th Avenues), Manhattan
http://facebook.com/djceremony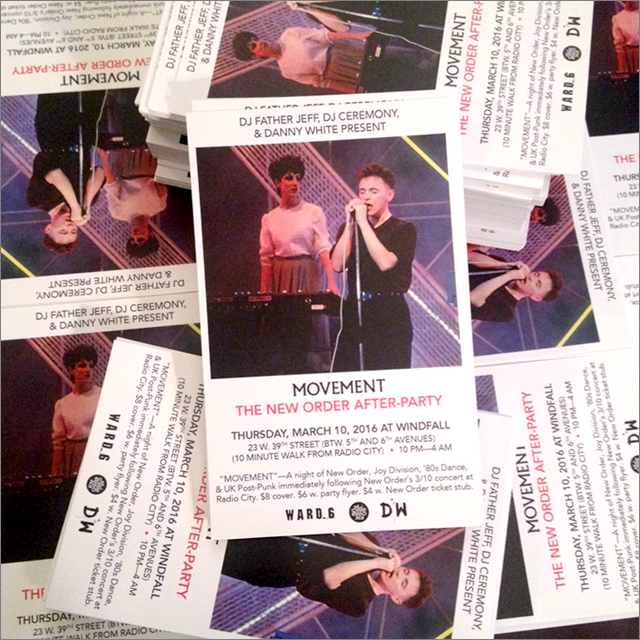 Sign up for the DJ Ceremony mailing list for information on upcoming events and dates. You may unsubscribe from the mailing list any time by replying to any e-mail with "Remove" in the subject line of your e-mail.