"COUPLET"—A Quarterly Poetry Reading Series & Social: Sat. Jan. 30

[Re-scheduled date due to Winter Storm Jonas.]
Leah Umansky & DJ Ceremony present:
"COUPLET"—A Quarterly Poetry Reading Series & Social at The Delancey, LES.
Winter 2016 Edition : Saturday, January 30, 2015 at The Delancey.
Produced by Leah Umansky & DJ Ceremony and hosted by poet Leah Umansky, Couplet is a quarterly reading series held on the Lower East Side featuring both emerging and established poets. Every event features music & after-party by DJ Ceremony.
#CoupletNYC (Instagram/Twitter)


This edition's featured poets:
1. KRISTINA BICHER
Kristina Bicher's poetry has appeared or is forthcoming in Grist, LIT, Columbia: A Journal of Literature and Art, Tupelo Quarterly, Crab Creek Review and others and her work has been nominated for the Pushcart prize. Her prose has been featured in The Atlantic and The Rumpus. She received a BA from Harvard University, an MA from Manhattanville College and an MFA from Sarah Lawrence College. Her chapbook "Just Now Alive" was published in 2014 by Finishing Line Press.
2. MARY LOU BUSCHI
Mary Lou Buschi's poems have appeared in FIELD, Willow Springs, Indiana Review, The Laurel Review, Cream City Review, Thrush, Pank, among others. Mary Lou's full-length collection, Awful Baby, was published this year through Red Paint Hill. Ukiyo-e, a chapbook was published by Dancing Girl Press (2014). Tightwire, her third chapbook, is forthcoming through Dancing Girl Press (2016). Mary Lou holds an MFA in poetry from Warren Wilson College. She has taught in the SPS division of New York University. Currently, Mary Lou is a special education teacher in the Bronx. She lives in Piermont, New York with Jeff (husband) and Nate (French Bulldog).
3. SHARON MESMER
Sharon Mesmer is a prose writer, poet and essayist. Her newest poetry collection, Greetings From My Girlie Leisure Place, has just been published by Bloof Books. Four of her poems appear in Postmodern American Poetry: A Norton Anthology (second edition, 2013). Other anthology appearances include I'll Drown My Book: Conceptual Writing By Women (Les Figues, 2012), Poems for the Nation: Edited by Allen Ginsberg (Seven Stories Press, 2000) and The Outlaw Bible of American Poetry (Thunder's Mouth Press, 1999). Her essays, reviews and interviews have appeared in the Paris Review, American Poetry Review, and the Brooklyn Rail, among other places. Her awards include a Fulbright Specialist grant (2011), a Jerome Foundation/SASE award (as mentor to poet Elisabeth Workman, 2009) and two New York Foundation for the Arts fellowships (2007 and 1999). She teaches in the undergraduate and graduate programs of New York University and The New School.
4. MICHAEL MORSE
Michael Morse is the author of Void and Compensation (Canarium Books, 2015). He has published poems in various journals and anthologies, including A Public Space, The American Poetry Review, Field, jubilat, The Literary Review, Ploughshares,Spinning Jenny, Tin House, and The Best American Poetry, 2012. A recipient of fellowships from The Fine Arts Work Center in Provincetown and the MacDowell Colony, he lives in Brooklyn, N.Y., and teaches at the Ethical Culture Fieldston School, the Iowa Summer Writing Festival, and the summer workshops at The Fine Arts Work Center in Provincetown.
5. EMILY SKILLINGS
Emily Skillings is a dancer and a poet. She is the author of two chapbooks: Backchannel (Poor Claudia) and Linnaeus: The 26 Sexual Practices of Plants (No, Dear/ Small Anchor Press). Recent poems can be found/are forthcoming in LitHub, Jubilat, Pleiades, Phantom Limb, Philadelphia Review of Books, Stonecutter and Poor Claudia :: Crush. She lives in Brooklyn, where she is a member of the Belladonna* Collaborative, a feminist poetry collective and event series. With poet Adam Fitzgerald, she co-curated the exhibit "John Ashbery Collects: Poet Among Things" at Loretta Howard Gallery. She is an MFA candidate at Columbia University and runs the Earshot reading series with Allyson Paty.
6. W. R. WEINSTEIN
W. R. Weinstein's poems have appeared in Barrow Street and in the online journals Verse Daily and Crested Myna Press. She is a film critic at Film Journal International and lives in New York City.

Your Hostess:
Leah Umansky is a poet, collagist and teacher in New York City. She is the author of the Mad-Men inspired chapbook, Don Dreams and I Dream and the full-length collection Domestic Uncertainties. Her dystopian themed chapbook, Straight Away the Emptied World¸is forthcoming from Kattywompus Press in 2016. Her poems can be found in such places as POETRY, Thrush Poetry Journal, Barrow Street and MAGMA. Some of her Game of Thrones inspired poems have been translated into Norwegian by Beijing Trondheim.
Your DJ:
Co-producer of Couplet, DJ Ceremony has played at well over 150 venues in and around New York City since 2001. He is the current producer and DJ of the celebrated monthly NYC Smiths & Morrissey fan party at The Gallery At LPR: "Oscillate Wildly". He also founded and co-produced a weekly neo-burlesque and variety show: "Corruption At Tammany Hall" in 2012, and currently produces an array of special themed parties around New York City. www.djceremony.com

The fine folks at Time Out New York named COUPLET one of the "best places to hear poetry aloud" in their August 14th, 2014 issue… we couldn't agree more!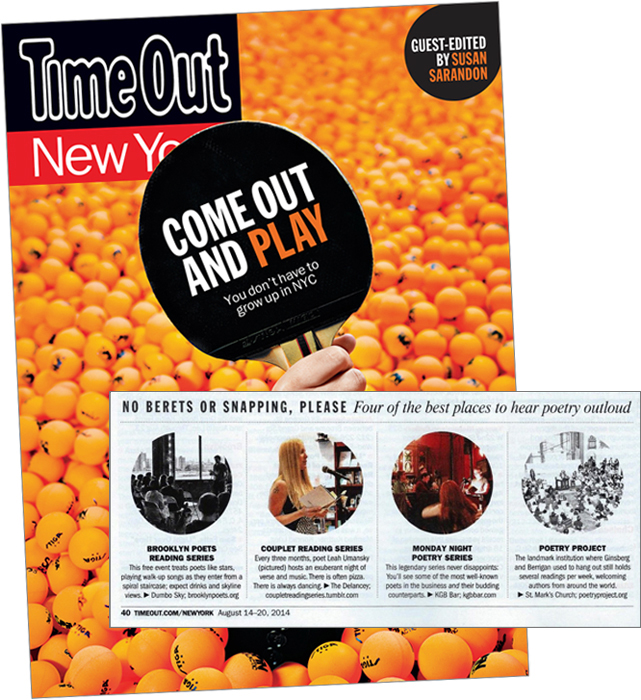 Leah Umansky & DJ Ceremony present:
"COUPLET"—A Quarterly Poetry Reading Series & Social
Winter 2016 Edition
Hosted by poet Leah Umansky with music by DJ Ceremony
Saturday, January 30, 2016, 7 to 10 PM
Venue: The Delancey, Lower live performance level
168 Delancey Street (Between Clinton & Attorney)
Lower East Side, NYC
#CoupletNYC