"COUPLET"—A Quarterly Poetry Reading Series & Social: Saturday, Oct. 3

Leah Umansky & DJ Ceremony present:
"COUPLET"—A Quarterly Poetry Reading Series & Social at The Delancey, LES.
Fall 2015 Edition / The 4-Year Anniversary : Saturday, October 3, 2015.
Produced by Leah Umansky & DJ Ceremony and hosted by poet Leah Umansky, Couplet is a quarterly reading series held on the Lower East Side featuring both emerging and established poets. Every event features music & after-party by DJ Ceremony.
#CoupletNYC (Instagram/Twitter)


This edition's featured poets:
1. SANDRA BEASLEY
Sandra Beasley is the author of three poetry collections—Count the Waves, I Was the Jukebox, and Theories of Falling—and a memoir, Don't Kill the Birthday Girl: Tales from an Allergic Life. Honors for her work include a 2015 NEA fellowship, the Center for Book Arts Chapbook Prize, and two DCCAH fellowships. She lives in Washington, D.C., and teaches with the University of Tampa low-residency MFA program.
2. SUSAN BRUCE
Susan Bruce has an MFA in theatre from NYU and was an actress On and Off-Broadway for over 20 years. She studies writing at The New School and her poems have been published in such places as Barrow Street, december, and Minerva Rising. Following a lifetime fear of deep water, at an undisclosed age, Susan learned to surf. Her chapbook, Body Of Water, published by Finishing Line Press is out in Fall 2015.
3. WESLEY ROTHMAN
Wesley Rothman's poems have appeared or are forthcoming in such places as: Copper Nickel, Harvard Review, Mississippi Review, Prairie Schooner, Vinyl Poetry, and the newly released Poets on Growth anthology. His criticism has appeared in Boston Review, The Rumpus, and Rain Taxi. His work has received Pushcart Prize and Best of the Net nominations, a Vermont Studio Center fellowship, and his first manuscript, SUBWOOFER, was a finalist for the Crab Orchard Poetry Series Open Competition. He serves as an associate editor for Tupelo Quarterly and a Board member for Salamander. A regular reviewer for American Microreviews and Interviews, Rothman teaches writing and cultural literatures throughout Boston.
4. ROBIN BETH SCHAER
Robin Beth Schaer is the author of the poetry collection Shipbreaking (Anhinga 2015). Her writing has appeared in Tin House, Paris Review, and Guernica, among others. She has received fellowships from Yaddo, Djerassi, Saltonstall, and VCCA. She teaches writing in New York City and worked as a deckhand aboard the Tall Ship Bounty, a 180-foot ship lost in Hurricane Sandy.
5. BARBARA UNGAR
Barbara Ungar has published four books of poetry, most recently Immortal Medusa and Charlotte Brontë, You Ruined My Life, both Hilary Tham selections from The Word Works. She has published poems in Salmagundi, Rattle, The Nervous Breakdown, and many other journals. A professor of English at the College of Saint Rose in Albany, she coordinates their new MFA program. In a starred review of Immortal Medusa, Kirkus Reviews called her, "A contemporary poet of the first rank."

Your Hostess:
Leah Umansky is the author of the Mad-Men inspired chapbook, Don Dreams and I Dream and a full length collection, Domestic Uncertainties. Her poems have appeared or are forthcoming in POETRY, Philadelphia Review of Books, & Coconut Poetry. Her next full-length collection will focus on gender & power in our 21st century world and in the worlds of Game Of Thrones & Mad Men. She also hosts and curates the COUPLET Reading Series in NYC. When she's not teaching, reading, collaging, writing or watching Mad Men or Game of Thrones, you can follow her on Twitter at @Lady_Bronte.
Your DJ:
Co-producer of Couplet, DJ Ceremony has played at well over 150 venues in and around New York City since 2001. He is the current producer and DJ of the celebrated monthly NYC Smiths & Morrissey fan party at The Gallery At LPR: "Oscillate Wildly". He also founded and co-produced a weekly neo-burlesque and variety show: "Corruption At Tammany Hall" in 2012, and currently produces an array of special themed parties around New York City. www.djceremony.com

The fine folks at Time Out New York named COUPLET one of the "best places to hear poetry aloud" in their August 14th, 2014 issue… we couldn't agree more!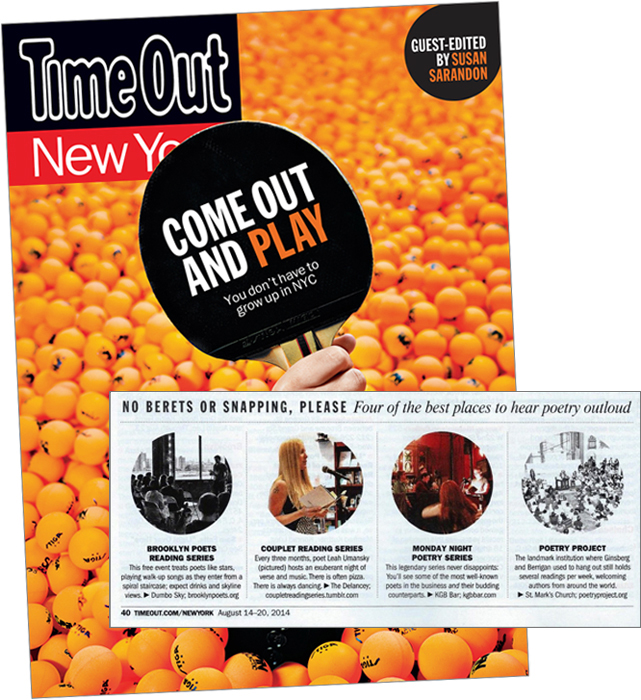 Leah Umansky & DJ Ceremony present:
"COUPLET"—A Quarterly Poetry Reading Series & Social
Fall 2015 Edition / The 4-Year Anniversary
Hosted by poet Leah Umansky with music by DJ Ceremony
Saturday, October 3, 2015, 7 to 10 PM
Venue: The Delancey, Lower live performance level
168 Delancey Street (Between Clinton & Attorney)
Lower East Side, NYC
#CoupletNYC