After-Party for "Dead Sexy" Burlesque w. DJ Ceremony: Friday, Jul 24th
"DEAD SEXY"—THE LIVE SHOW—JULY 24th • (9—11 p.m.) • Every Friday at 9:00pm at the horrifying Times Scare in Times Square NYC, featuring the best neo-burlesque performers on earth… and under it! From the award-winning Porkpie International (Pinchbottom Burlesque, Grab My Junk, Church of Titillation) comes a frighteningly attractive, monstrously talented, insanely seductive night of tease, titillation, and of course… death.
Friday, July 24th: Starring Jonny Porkpie, Anytime Jones (ND), Miss AuroraBoobRealis, Dandy Dillinger, Dangrrr Doll, Oopsie Daisy (ND), and Jo "Boobs" Weldon. • $15/$25. Tix available @ http://deadsexy.brownpapertickets.com/



THE AFTER-PARTY • (11:00 p.m.—1:00 a.m.) • After-party w. DJ Ceremony spinning Dark Alternative, New Wave, Goth, Glam. Free.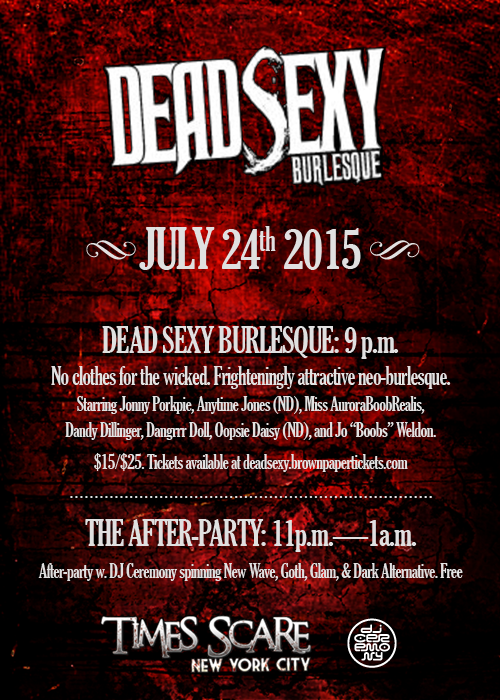 Friday, July 24, 2015.
Live show at 9PM / After-party: 11PM to 1AM.
21+ with ID.
Times Scare: 669 8th Avenue (BTW 42 & 43rd streets): New York City