"COUPLET"—A Quarterly Poetry Reading Series & Social: Friday, Apr. 24

Leah Umansky & DJ Ceremony present:
"COUPLET"—A Quarterly Poetry Reading Series & Social at The Delancey, LES.
Spring / Expanded National Poetry Month 2015 Edition: Friday, April 24, 2015.
Produced by Leah Umansky & DJ Ceremony and hosted by poet Leah Umansky, Couplet is a quarterly reading series held on the Lower East Side featuring both emerging and established poets. Every event features music & after-party by DJ Ceremony.
#CoupletNYC (Instagram/Twitter)


This edition's featured poets:
1. KENDRA DECOLO
Kendra DeColo is the author of Thieves in the Afterlife (Saturnalia Books, 2014), selected by Yusef Komunyakaa for the 2013 Saturnalia Books Poetry Prize. She has received awards and fellowships from the Bread Loaf Writers Conference, the Millay Colony, and the Tennessee Arts Commission. Her poems have appeared or are forthcoming in Indiana Review, Copper Nickel, Third Man Books' Language Lessons Vol. 1 and elsewhere. She is book editor at Muzzle Magazine and a visiting professor at Sarah Lawrence College.
2. JOHN DEMING
John Deming's poems have appeared in BostonReview, Fence, Augury, The Best American Poetry Blog, Verse Daily, POOL, The Agriculture Reader and elsewhere. His last chapbook was called 8 Poems (Eye for an Iris Press). He is editor of Coldfront (www.coldfrontmag.com) and lives in New York City, where he curates KGB Monday Night Poetry and teaches at Baruch College and LIM College.
3. ANNE-MARIE FYFE
Anne-Marie Fyfe (b. Cushendall, Co. Antrim, Ireland) has published four collections of poetry including Understudies: New and Selected Poems, and House of Small Absences, due from Seren Books in 2015. Winner of the Academi Cardiff International Poetry Prize, she has run Coffee-House Poetry's readings & workshops at London's leading live literature venue, the Troubadour, since 1997. She organizes the annual Hewitt Spring Festival in the Glens of Antrim, and was chair of the UK Poetry Society from 2006-2009. www.annemariefyfe.com / www.coffeehousepoetry.org
4. NICK FLYNN
Nick Flynn is the author of three acclaimed books of poetry, The Captain Asks for a Show of Hands, Blind Huber, and Some Ether, winner of the PEN/Osterweil Award. He is also the author of three memoirs, The Reenactments, The Ticking Is the Bomb, and Another Bullshit Night in Suck City, winner of the PEN/Martha Albrand Award. He is also the author of a play, Alice Invents a Little Game and Alice Always Wins (2008). He has received fellowships from, among other organizations, The Guggenheim Foundation and The Library of Congress. Some of the venues his poems, essays, and nonfiction have appeared in include the New Yorker, the Paris Review, National Public Radio's This American Life, and the New York Times Book Review. His film credits include artistic collaborator and "field poet" on the film Darwin's Nightmare (nominated for an Academy Award for best feature documentary in 2006), as well as executive producer and artistic collaborator on Being Flynn, the film version of Another Bullshit Night in Suck City. A professor in the creative writing program at the University of Houston, where he teaches each spring, he then spends the rest of the year in (or near) Brooklyn.
5. MATTHEA HARVEY
Matthea Harvey is the author of five books of poetry, If the Tabloids are True What Are You?, Of Lamb (an illustrated erasure with images by Amy Jean Porter), Modern Life (a finalist for the National Book Critics Cirlcle Award and a New York Times Notable Book), Sad Little Breathing Machine, and Pity the Bathtub Its Forced Embrace of the Human Form. She has also published two children's books, Cecil the Pet Glacier, illustrated by Giselle Potter and The Little General and the Giant Snowflake, illustrated by Elizabeth Zechel. She teaches poetry at Sarah Lawrence and lives in Brooklyn.
6. HELEN VITORIA
Helen Vitoria's poems can be found in Ping Pong Journal, The Awl, PANK, Pebble Lake Review, GRIST, Barn Owl Review and others. Her work has been nominated for Best New Poets & the Pushcart Prize. Her poetry collection, Corn Exchange has been awarded the 2014 Silver IPPY Book Award in poetry. She edits THRUSH Poetry Journal & THRUSH Press. She is currently at work on her second collection of poems, NEBRASKA and a chapbook length poem, "ELEGY." Find her here: www.helenvitoria.com.

Your Hostess:
Leah Umansky is the author of the Mad-Men inspired chapbook, Don Dreams and I Dream and a full length collection, Domestic Uncertainties. Her poems have appeared or are forthcoming in POETRY, Philadelphia Review of Books, & Coconut Poetry. Her next full-length collection will focus on gender & power in our 21st century world and in the worlds of Game Of Thrones & Mad Men. She also hosts and curates the COUPLET Reading Series in NYC. When she's not teaching, reading, collaging, writing or watching Mad Men or Game of Thrones, you can follow her on Twitter at @Lady_Bronte.
Your DJ:
Co-producer of Couplet, DJ Ceremony has played at well over 150 venues in and around New York City since 2001. He is the current producer and DJ of the celebrated monthly NYC Smiths & Morrissey fan party at The Gallery At LPR: "Oscillate Wildly". He also founded and co-produced a weekly neo-burlesque and variety show: "Corruption At Tammany Hall" in 2012, and currently produces an array of special themed parties around New York City. www.djceremony.com

The fine folks at Time Out New York named COUPLET one of the "best places to hear poetry aloud" in their August 14th, 2014 issue… we couldn't agree more!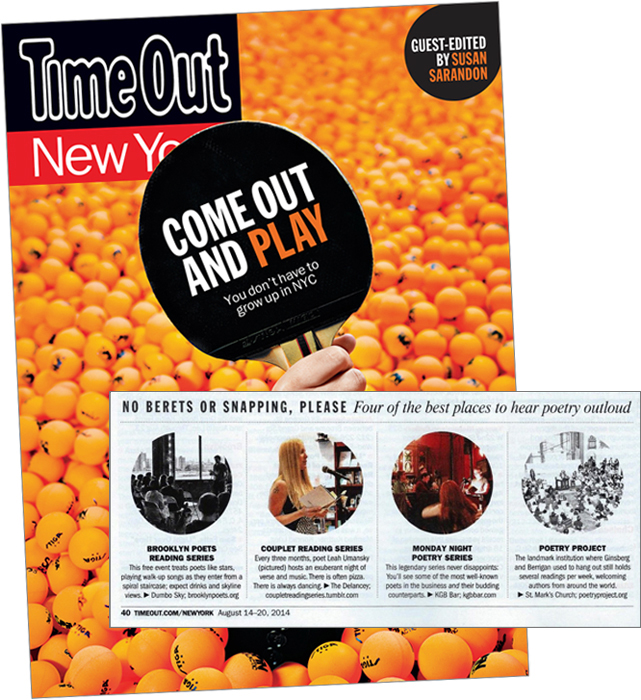 Leah Umansky & DJ Ceremony present:
"COUPLET"—A Quarterly Poetry Reading Series & Social
Spring / Expanded National Poetry Month 2015 Edition
Hosted by poet Leah Umansky with music by DJ Ceremony
Friday, April 24, 2015, 7 to 10 PM
Venue: The Delancey, Lower live performance level
168 Delancey Street (Between Clinton & Attorney)
Lower East Side, NYC
#CoupletNYC