DJ Ceremony Opens For Andy Rourke (The Smiths)—Valentine's Day 2015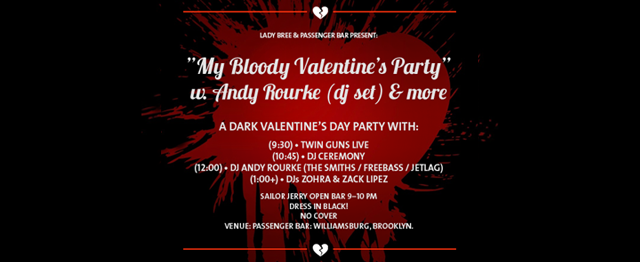 Lady Bree Presents:
"MY BLOODY VALENTINE'S PARTY"
A DARK VALENTINE'S DAY PARTY WITH ANDY ROURKE, DJ CEREMONY, & MORE
Saturday February 14, 2015.

Featuring:
TWIN GUNS LIVE [9:30]
DJ CEREMONY [10:45]
ANDY ROURKE (THE SMITHS) [Midnight]
DJs ZOHRA (Azar Swan) & ZACK LIPEZ (Noisey, Freshkills) [1:00+]
• Sailor Jerry Open Bar [9:00-10:00]
• Tarot card readings by Miss Angeline
• Silent films on the projector
• Lite bites & candy
• Pool table in back
• The Self-Portrait Project under the stairs
• Black attire requested
Saturday, February 14, 2015 — 9:00 p.m. to 4:00 a.m.
Venue: PASSENGER BAR — 229 Roebling (Between South 3rd & South 2nd Streets), Williamsburg, Brooklyn
http://facebook.com/djceremony


Sign up for the DJ Ceremony mailing list for information on upcoming events and dates. You may unsubscribe from the mailing list any time by replying to any e-mail with "Remove" in the subject line of your e-mail.