DJ Ceremony spins at Bettina May's "Behind The Velvet Curtain": Feb. 2nd
Bettina May presents:
BEHIND THE VELVET CURTAIN
The first Monday of every month. Next show: Monday, February 2, 2015


Time Out New York said of the show: "Step behind the curtain in Beauty Bar's back room, and you'll find Bettina May and her pals delighting your senses with a mix of burlesque, magic and generally hedonistic spectacle."

Join Bettina May and a cast of NYC's hottest burlesque performers for an intimate evening to keep you smiling all week long! Also, Bettina May recently published her very first book, Everyday Bombshell, a how-to book on vintage style, and she's celebrating it at this show! She'll be selling and signing hot-off-the-presses copies before and after the show, so get there early as she'll have limited copies.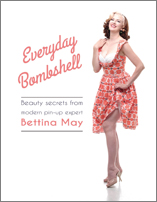 We are joined this month by one of Los Angeles' finest performers, Lux LaCroix! Leggy beauty Sweet Lorraine is making her BTVC debut, and will be performing alongside the lovely and talented Essence Revealed and show producer Bettina May. The show is hosted by Shelly the Singing Siren, making time in her busy schedule as a full-time singer for Company XIV! Music by yours truly, DJ Ceremony.
Free show! Just buy a drink in the front bar from Australian Showgirl Anna Copa Cabanna. That drink in hand is your admission to the back room for a sexy spectacle! Get there early to get a good seat!
Monday, February 2, 2015 at 10pm. 21+ with ID.
(Go-go starts at 10pm; show at 10:15)
The Beauty Bar (Rear Performance Space): 231 East 14th Street: New York City