"COUPLET"—A Quarterly Poetry Reading Series & Social: Friday, Jan. 23

Leah Umansky & DJ Ceremony present:
"COUPLET"—A Quarterly Poetry Reading Series & Social at The Delancey, LES.
Winter 2015 Edition: Friday, January 23, 2015.
Produced by Leah Umansky & DJ Ceremony and hosted by poet Leah Umansky, Couplet is a quarterly reading series held on the Lower East Side featuring both emerging and established poets. Every event features music & after-party by DJ Ceremony.
#CoupletNYC (Instagram/Twitter)


This edition's featured poets:
1. KATIE BYRUM
Katie Byrum's first full-length collection, Burn It Down, is forthcoming from Forklift Books. She is originally from Kentucky but now lives in Brooklyn and bartends in the East Village. Her poems can be found online at H_NGM_N, iO, Poor Claudia, The Bakery, and elsewhere.
2. JOHN EBERSOLE
John Ebersole's writing has appeared or is forthcoming in The Brooklyn Rail, Coldfront, Powder Keg, inter|rupture, similar peaks, BOAAT, Southern Humanities Review, The Battersea Review, and elsewhere. He is poetry editor for The Philadelphia Review of Books and assistant professor at Chestnut Hill College in Philly.
3. SARAH GERARD
Sarah Gerard is the author of the novel Binary Star and the chapbook Things I Told My Mother. Short works have appeared in the New York Times, Joyland, the Paris Review Daily and other journals. She works at BOMB Magazine.
4. JOANNA C VALENTE
Joanna C Valente is a human who received her MFA in writing at Sarah Lawrence College. She is the author of Sirs & Madams (Aldrich Press). Some of her work appears in The Paris-American, The Destroyer, The Atlas Review, and others. In 2011, she received the American Society of Poet's Prize. She founded and currently edits Yes, Poetry, and is the Managing Editor for Luna Luna Magazine. She resides in Brooklyn, New York. More can be found at http://joannavalente.com/
5. RACHEL ZUCKER
Rachel Zucker is the author of The Pedestrians (forthcoming from Wave Books, 2014) and Museum of Accidents (Wave Books, 2009), which was a finalist for the National Book Critics Circle Award. She is also the author of MOTHERs (Counterpath Press, 2013), The Bad Wife Handbook (Wesleyan University, 2007), The Last Clear Narrative (Wesleyan University, 2004), Eating in the Underworld (Wesleyan University, 2003), and Annunciation (The Center for Book Arts, 2002), among others. A graduate of Yale and the Iowa Writers' Workshop, Zucker teaches at NYU and the 92nd Street Y. She currently lives in NYC with her husband and three sons and was awarded an National Endowment for the Arts Creative Writing Fellowship in 2012.

Your Hostess:
Leah Umansky is the author of the Mad-Men inspired chapbook, Don Dreams and I Dream and a full length collection, Domestic Uncertainties. Her poems have appeared or are forthcoming in POETRY, Philadelphia Review of Books, & Coconut Poetry. Her next full-length collection will focus on gender & power in our 21st century world and in the worlds of GoT & MM. She also hosts and curates the COUPLET Reading Series in NYC. When she's not teaching, reading, collaging, writing or watching Mad Men or Game of Thrones, you can follow her at @Lady_Bronte.. Find more of her work at: www.iammyownheroine.wordpress.com/
Your DJ:
Co-producer of Couplet, DJ Ceremony has played at well over 150 venues in and around New York City since 2001. He is the current producer and DJ of the celebrated monthly NYC Smiths & Morrissey fan party at The Gallery At LPR: "Oscillate Wildly". He also founded and co-produced a weekly neo-burlesque and variety show: "Corruption At Tammany Hall" in 2012, and currently produces an array of special themed parties around New York City. www.djceremony.com

The fine folks at Time Out New York named COUPLET one of the "best places to hear poetry aloud" in their August 14th, 2014 issue… we couldn't agree more!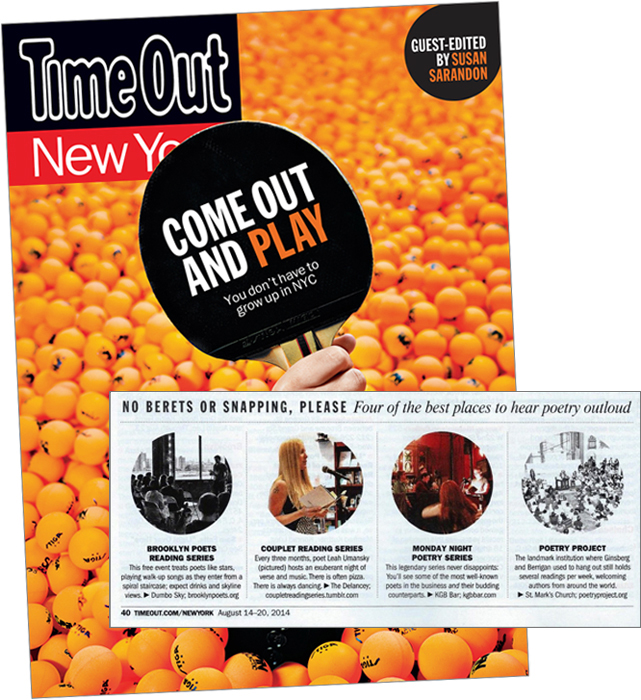 Leah Umansky & DJ Ceremony present:
"COUPLET"—A Quarterly Poetry Reading Series & Social
Winter 2015 Edition
Hosted by poet Leah Umansky with music by DJ Ceremony
Friday, January 23, 2015, 7 to 10 PM
Venue: The Delancey, Lower live performance level
168 Delancey Street (Between Clinton & Attorney)
Lower East Side, NYC
#CoupletNYC